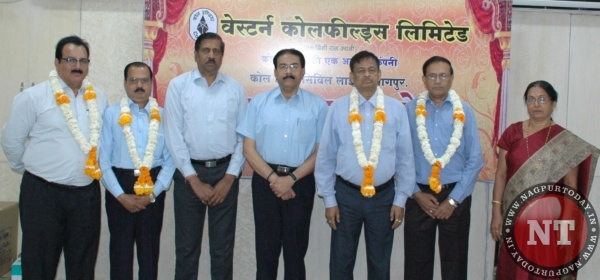 Nagpur: A farewell programme of retired employees was organized on February 28, 2018 in Western Coalfields Limited (WCL) HQs. On this occasion, CMD, WCL, Rajiv Ranjan Mishra and Director(Finance) S.M. Choudhary were present as Chief Guest. They extended warm greetings to the retired officials and wished them bright future.
K. B. Majhi, General Manager(Mining), A.K. Chaurasiya, General Manager (E & M), Dr. A. K. Raina, Chief Manager(Geology), N.K. Sanodia, Chief Manager (Excavation), Smt. Kiran Morankar, Office Superintendent (Excavation Deptt.) retired today from company's services.
Senior officials and large number of employees were present at the function. Smt. Priyesha Chaurasiya Dy. Manager conducted the proceeding and proposed a vote of thanks.