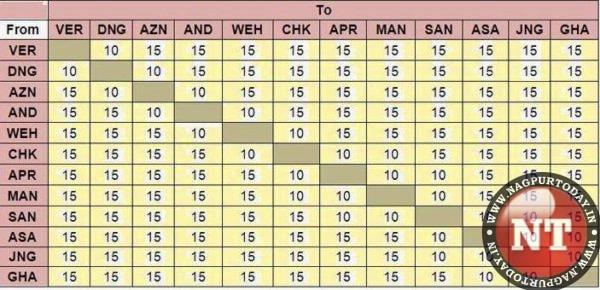 Nagpur: Overwhelmed by massive response from Nagpurians, Maharashtra Metro Rail Corporation Limited (MMRCL) has restored the fare of Nagpur's Majhi Metro to the pre-Covid level with immediate effect. The move is aimed at increasing the fares.
Encouraged by the trend that followed the week into the New Year, MMRCL bosses quietly decided to switch back to pre-Covid ticket fare to ensure recovery of the huge investment that went into putting in place the mass rapid transport system in the city. However while restoring the fares to pre-Covid level, MMRCL said it has taken care to keep the rates intact for small distance travel so that citizens are spared the high fares.
So for travel up to six kms the ticket will be as usual Rs.5 only, said Akhilesh Halve, Deputy General Manager, Corporate Communications, MMRCL. The bare minimum hike is only for those who travel end to end, the 15 km stretch or more where the fare is going to be Rs. 35. Between 6 to 9 km travel, the rate will be Rs. 10 which till now was common for end to end travel. Similarly for 9 to 12 km ride the metro fare is going to be Rs. 15.
Halve further added that compared to other cities, the fare of Nagpur Metro is still the lowest. MMRCL bosses have kept in mind the status of Second Capital of State and not effect any hike and only restored the original fare. During the outbreak of Covid-19 when there were travel restrictions and then to encourage people to switchover to metro, the fare was kept deliberately low. Now that people have realised the advantage of travelling by metro, restoring the fare was a just decision, Halve further added.