9 Prominent Traders felicitated
2 Special Personalities felicitated
Traders show unity by coming together
Many leaders and politicians attend event to show solidarity
Nagpur Today.
The apex organization of traders of Vidarbha Nag Vidarbha Chamber of Commerce in association with "Vrindavan" organized the Diwali get-together on November 8,  2013 at their premises.
The programme started off with the lighting of the traditional lamp by the senior office-bearers and the past-presidents.
President of NVCC Dipen Agrawal spoke eloquently on the role played by NVCC and how it plays a vital role between the traders and industrialists and the government. He said that, his second term was not only educating but a humbling experience too. He thanked all the traders and industrialists who showed solidarity and unity in their struggle against LBT and pleaded for their continuous support in their fight against LBT.
Past President of NVCC Ramesh Manthri spoke on how the traders in the city fought long for removal of LBT but got a shock of how LBT was introduced. He flayed the government for its policies and rued on how our economic policies have gone wrong somewhere.
He concluded with what Winston Churchill spoke of India at the time of achieving its freedom.
NVCC then felicitated the nine prominent business personalities from the city and from different parts of Vidarbha for their outstanding achievements in trade and social field.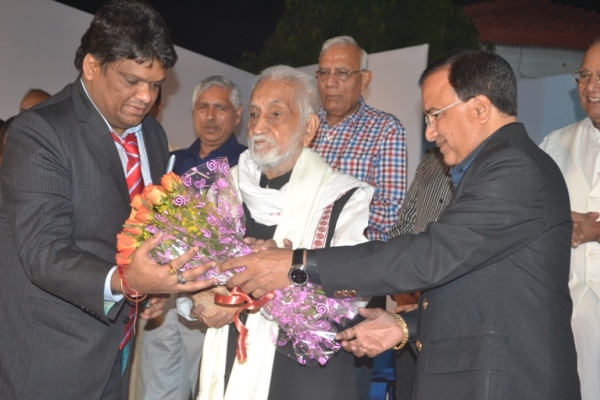 The first to be felicitated was Abhay Sancheti who hails from a family with huge emphasis on social activities & actively involved in spiritual & education field. He has established SMS Multi objective organisations, which provides yearly scholarship to more than 30 students. He is trustee for several primary and high schools. He was also the Chairman of Alumini of College of Engineering & Chinmay Seva Trust, Oswal Education Society.
The second prominent businessman to be felicitated was Jagtar Singh Uppal who was educated in Pune got his Degree in Electronics and Tele Communication from London. He had started Medical & Surgical Equipment Trading & manufacturing Unit. He was awarded 2 gold medals of Udyog Patra by Vice President of India & Jewel of India award. He is the Life Member of Vidarbha Relief/Cancer Relief/Sikh Edun. Societies. He is also the Vice President of Narcaood/Nagrik Sahakari Rugnalaya & Founder President of Central India Surgical Dealers Assocation.
The third prominent businessman to be felicitated was Satyanarayan Agrawal who is a religious visionary, who started steel trading in Nagpur in 1970. He is one of the biggest supplies of reputed national brands of Iron & structure steel i.e. SAIL, RINL,JINDAL. He has tangible interests in to coal mining. He keenly participates in eye & health camps. He is also associated with many social welfare organisations & Trustee of many social welfare organisations.
The fourth prominent businessman to be felicitated was Arun Johrapurkar who hails from Karanja Lad. He is the former member of Karanja taluka MSEDCL, Central Warehousing Corporation, Jaikisan Cooperative Sugar Mills, He was also the Executive Magistrate, Grover member of Quarter Advisory Board, Punjabrao Agriculture University., Ministry of Agri-New Delhi Government of India & Life member of Bharat Krushi Samaj.
The fifth prominent businessman to be felicitated was Jagdishprasad Jangid who hails from Khamgaon. He joined his ancestral business of making pure silver idols of Gods. While doing this business achieved several awards viz. "Khamgaon Ratna". He is also connected with numerous social organizations.
The sixth prominent businessman to be felicitated was Praveen K. Hiwre who comes from Wardha. He is the manufacturer of HP Plastic & Bags packaging items like envelopes bottles. He was awarded several awards from Maharashtra Government Departments. In 2009, he received a cash award of Rs. 50,000/- & Samman Patra., during floods in Akola. He has helped so many lives & awarded Rashtrapati Shourya Padak in 2008. He has donated blood 40 times to Blood Banks for the help of needy patients.
The seventh prominent businessman to be felicitated was Ramkishore Sarda who hails from Chandrapur. He is a wholesale trader in grains, oil seeds & pulses & cotton ginning & pressing industry. He took active participation in college politics. He is the Founder President of Maheshwari Yuvak Mandal, Chandrapur elected as APMC Director thrice. He is Former President of Chandrapur Vyapari Mandal, Acting Vice Presidents of Bhartiya Janta Vyapari Aghadi, Maharashtra Pradesh & Chamndarpur Chamber of Commerce, connected with social organizations, Religious trusts, played aggressive part in the agitation of Local Body Tax.
The eighth prominent businessman to be felicitated was Sakarchand Shah who comes from Akola. He is connected with many social organisations like Akola Nagar Parishad, Akola Distt. Food Advisory Committee & Distt. Food Adulteration Committee, Member of Steering Committee of Prices fixed for Essential Commodities. He is also associated with several society & Government Co-operative societies & banks, Trustee of Religious, Educational Institutions. Awarded "KIRTIMAN SAMMAN PATRA"
The ninth prominent businessman to be felicitated was Sudhir Kothari who hails from Hinganghat. He is the Chairman of APMC, Hinganghat, Wana Nagarik Bank, Tehsil Sahakari Kharidi Vikri Kendra, Kamgar Sanghantna, Ex-Chairman of Municipal Council & Director of several co-operative institutions and also the Chief Patron of various Committees.
All the awardees with felicitated with a shawl, shreefal, a memento and a shield.
What followed gave a lot of inspiration to many traders and attendees.
Special Awards were given to Ganpatlal Khandelwal, who having completed 100 years of age is still actively doing grain business at Anaj Bazar, Itwari. He too was given a memento with shawl and shree fal. The family members and traders gave a standing ovation to the traders who completed a century.
NVCC showed its nobility by recognizing the work of Babu Nampalliwar who served NVCC in 1959 as a steno and worked under 54 Presidents of NVCC. He tirelessly provided valuable service since last 54 years at NVCC.
LBT a thorn in the flesh
Almost all the traders, present and past presidents of NVCC spoke of LBT being a thorn in the flesh and something the government forced on them even when they are not able to do adequate profits and during recession. Awardees Jagtar Singh Uppal  and Ram Kishore Sarda both spoke of how LBT was forced on them and how the business community is affected by it. Sarda went on to say that in the forthcoming elections, all traders and industrialists should only vote for that political party that assures or promises to do away with LBT.
During the programme, the Chamber felicitated former Presidents of the Chamber, Presidents/Secretaries of various trade associations, Hon. Legal Advisors of the Chamber, officials of NMC, local leaders and politicians.
All the office bearers of NVCC, Former Presidents and office-bearers, Chiefs of all trade organizations attended the meet. The dignitaries and special invitees who attended were Girish Gandhi, MP Vilas Muttemwar, MLAs Dinanath Padole, Sunil Kedar, Sudhakar Deshmukh, Krishna Khopde, Vikas Khumbare, Nitin Raut, Former MLA Anees Ahmed, Mayor Anil Sole, Dy Mayor Jaitunbi Ashfaq Patel, NMC Municipal Commisioner Shyam Wardhane, Asst Commissioner Mahesh Dhamecha,  Zulfesh Shah, Pratap Motwani, Sanjay Wadhwani and others.
Those seated on the dais were Formers Presidents of NVCC, Prakash Mehadia, Ajay Madan, Raju Vyas, Mannubhai Soni, Ashok Singhwi, Chunibhai Shah, Farooq Akhani, Sachin Punyani, Ramesh Mantri & present President Dipen Agrawal.
Renowned Singer Sufi Samrat Adil Husaini Sahab gave a musical performance after the felicitation programme. The music brought out a very atmosphere to the audience. The traders, leaders, politicians all relaxed for a few moments from their busy schedule, worries and tension. Two dancers enlivened the occasion.
The promoters of Vrindavan 11 acre Township sponsored the entire event.