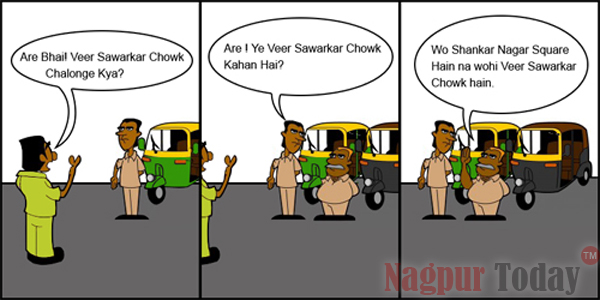 Nagpur News: Ask any auto rickshaw fellow in Nagpur to take you to Dr Kokdrekar Square or for that matter to Bodhisatva Square!!! He would be certainly digging out on the fellow auto wallahs to know where those places are…?? But before you too scratch your heads juggling up your memory to locate this place in the city, let's tell you that these are not newly formed squares but existed in Nagpur from time immemorial. Do not surprise if you are told that Dr Kokdrekar Square is your well known Lokmat Square and that Bodhisatva Square is none other than Matey Square!! Zoom past any traffic signal and you would find a small green board with the name of that square inscribed on it. And hey you say…I never knew this!
And this is not the only surprise in the packet! One can find a host of such names officially assigned to many of known squares in Nagpur. Nagpur Today browsed through various prominent squares in the city and identified that around 40 of them are not named after its popular calling in its official references. Many of us may bother least and stick to the popular versions, but these are not enlisted in official diaries adding to the confusion of the citizens.
Two years back former Municipal commissioner Sanjeev Jaiswal had put up sign boards of the popular names of all prominent squares. The traffic department executed the work and eventually boards were installed at 90 places. But, then the NMC Namkaran Samiti – an advisory committee of some corporators under the chairmanship of deputy mayor Shekhar Sawarbandhe objected to the move. They sent a letter to the traffic department, directing them to change the boards according to names approved by the civic body and the Namkaran committee. Later the new names were put up on display.
Dr Kokdrekar Chowk ala Lokmat Square probably got its name from one Kokdrekar hospital located at its heart. The hospital is currently run by Dr Kokdrekar whose father opened this place long ago. Our correspondent quizzed a fruit seller at the place about its name and he reverted us poker faced! He had no clue about its name.  Even many standing at the tea stalls could not familiarize with the official name for Lokmat Square.
Similar is the case of Gandhi Chowk popularly known as Variety square frequented by whole lot of people from Nagpur on daily basis but very few knew it by its official name.
Even the auto rickshaw drivers at Shankar Nagar were quite amused to know that the Shankar Nagar square which is their parking point is actually known as Swatantra Veer Sawarkar Chowk.
Most of the people in the city are not aware about the rechristening of these squares two years back as these squares are still known and called by their popular names. People also get puzzled when they notice these new names which have been put up at least two years back.
What's in a name?
Popular name                                                          Official name
Deekshabhoomi Chowk                              Lokshahir Annabhau Chowk
Laxmi Nagar Square                                    Deendayal Upadhya Chowk
Rahate Colony Square                                 Dr Hardikar Chowk
High Court Chowk                                         Mohammed Rafi chowk
Abhyankar Nagar Square                            Sir Visveraya Chowk
RBI Square                                                        Samvidhan Chowk
Laxmi Bhavan Square                                  Lal Bahadur Shastri Chowk
Katol Road Chowk                                        Juna Katol Naka Chowk
There are about 40 such famous squares with different official names.