Nagpur News.
A lot has happened over Futala Lake during the past weeks as it remained abuzz in the media headlines for all the wrong reasons. As the situation progressed, people in their usual high, hit Futala lake with their near and dear ones to adore the watery beauty in the town.
Charmed with its elegance and exuberance many turn up at this lake to delight themselves with the scenic beauty that captivates them no end. More engrossing is the evening delight.  But hold on, before you start chanting beauty mantra for this gem of your town.
While this may appear whacky and weird to combine, Nagpur Today chose to rise up to the alarming situation that involves two facets of Futala…
As we mentioned in our heading – Crowning Glory to Drowning Glory,,, let's explore further…
Picture this…Isn't it a Crowing Glory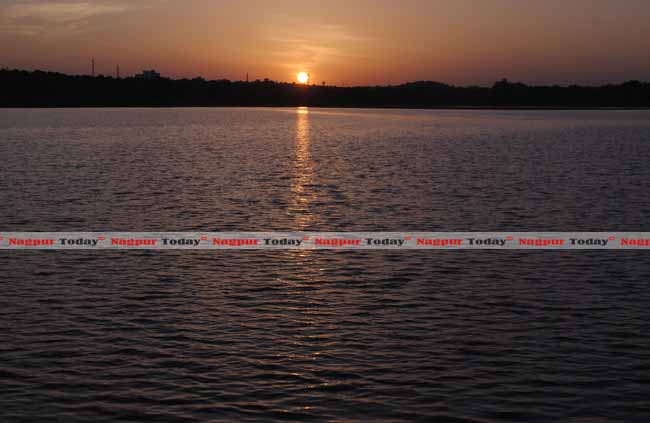 Of Course you are enticed in the golden magnificence of sun reflecting its magical rays on the silent waters of Futala lake. Left mesmerized…we too when we caught this scenic sunset at Futala…
Now what do you say… A Drowning Glory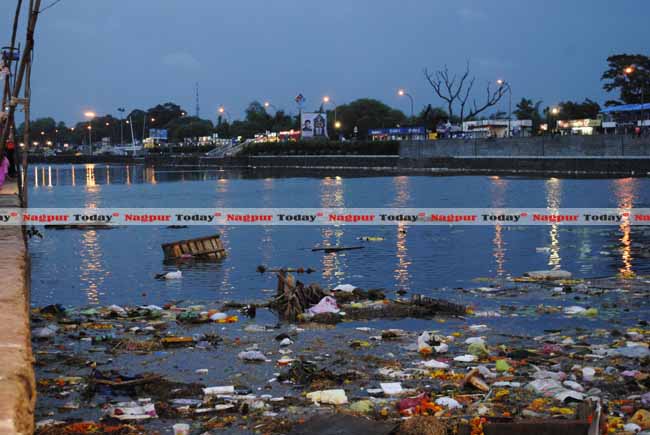 While a distant look catches our imagination with sun soaked waters of mesmerizing lake, the vision turns filthy as we approached nearer. The reason for this scene is evident – people celebrated religiously but forget to preserve nature – god's ultimate creation – while bidding bye to their deities. The garbage piled up on the banks of Futala is the result of idol immersion and nirmalya carelessly thrown over the endearing face of Futala lake. It will remain there as most of the garbage contains toxic and biodegradable substance.
The sun has gone, evening has set in… the streets are lit up but darkness prevailed over future of this lake.