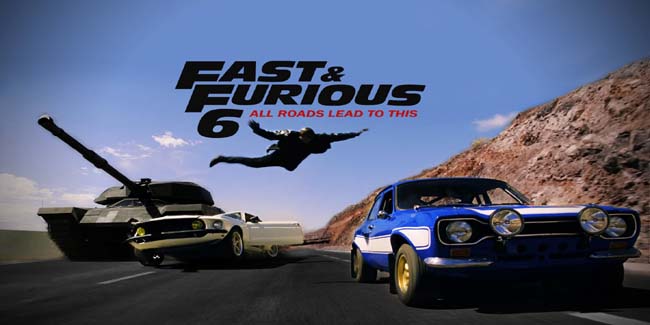 Cast: Van Diesel, Luke Evans, Wheels Galore
Direction: Justin Lin
Plot: Whenever we watch a film the first which comes to our mind is will it be "Worth it"?
Moreover F and F 6 also underscores the point that our own Dhooms and Races are just not in the same class, both in terms of plot content and action thrills, never mind the ongoing claims that Indian cinema's technique is world class.
Back to the car business at hand here, written by Chris Morgan and directed by Justin Lin, who have been at it for four installments. They're challenged, now, by the miracle of resurrecting one of its staple characters, who you thought was dead and gone. So what? She returns, alive, kicking, albeit suffering from memory loss. And since the Fast-gang had retired after their last bonanza heist in Rio, the question is – how to bring them back in action? After tall, they're all cushily settled in exotic dream spots. Aah but wait, they do long to return to their homeland America.
Agent Luke Hobbs (Dwayne Johnson) and his partner Riley (Gina Carano) need help to bring down Owen Shaw (Luke Evans), a bad guy (I really don't know if he's a terrorist, a mercenary, or what) who is using his own team of car thieves to steal parts for a highly-dangerous and highly-lucrative WMD. Dom Toretto (VIN Diesel) agrees to help when he discovers Letty (Michelle Rodriguez), who supposedly died in the fourth movie, is alive and working with Shaw. Brian (Paul Walker), Ramon (Tyrese Gibson) Tej (Ludacris), Han (Sung Kang), and Gisele (Gal Gadot) all agree to pitch in for that "family" crap Dom is always spouting and to get full pardons.
Over to the combats-a-minute, then, which are executed with more chutzpah this than you'd expect in a B-grade franchise. Army tanks and an omnipresent airplane are around, besides the opportunities galore to perform gravity-dyeing martial stunts.
The second half puts the adrenaline rush in third gear and takes the story line beyond the rubber burns and skid marks. Lin focuses on the emotional bonds between the characters making them more than just steroid studs.
Verdict:
Better than the last one, F&F6 will make your throat dry. Watch it!!!!!
: Yash Raj Trivedi