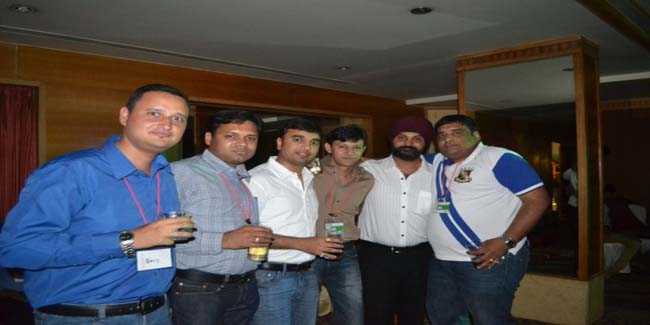 Nagpur News: Har Ek Friend Zaroori Hota Hai especially if it's a school friend, and what better than to have a reunion of old school chuddy buddies.
After 16 years, they still are 'Daring to be wise' and 1997 SFS school batch 'Reunion' was an evening to remember. 3 months back the search, research started on meeting all on this day. The effort was been taken by Ritesh Harchandani aka Tony who lives in Mumbai.  He spoke to maximum friends he could have and got all together under one roof.
Ritesh says, "It was a tough job but a great experience, however a very joyful moment an opportunity to meet and greet. Those hugs after 16 years were felt very tight and touchy. "
"I want to thank the volunteers who stood by and supported this event specially Abhijeet Sharma, PV Rao and Harpal," said Ritesh.
The event was hosted by Yash Raj Trivedi.
The party was kept in wide spread area of banquet, pool side and lawns of Hotel Pride. After the welcome speech by Ritesh Harchandani, a small presentation was given by Pranay Naidu. The concept was designed by Ritesh and Pranay together. The small film had memories of their school days which brought a smile on everybody's face present there.
One of the key volunteers for the event was P Venkat Rao, City Manager, Café Coffee Day (Nagpur) says, "At the age of 30, I still feel like a 15-year-old teenager and meeting all brought so much in joy in my life, a moment I wanted to capture and make it still".
After a couple of cocktails and snackers, all grownups wanted to show their piece of dancing talent. More than 50 50 batch mates were tapping their feet on number like Hookah Bar, Chikni Chameli and Halkat Jawaani etc. In fact, the carpet area was also occupied.
Finally, the dinner section was operational with lavish variety of Indian spreads and desserts. By the end, some got emotional and spoke their heart, ones who did not meet since years now have their contact details too because as a return a CD was been given which had all the details of the batch mate as well as the film which was shown for the day.
Looking forward to meet soon Ritesh Harchandani says, "All is well that ends well."
: Yash Raj Trivedi