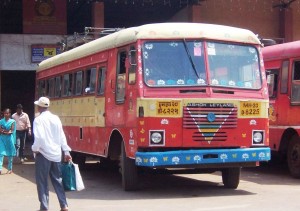 Nagpur News: The Maharashtra State Road Transport Corporation has decided to run extra buses in the state during Diwali. The decision was taken in view of the long waiting lists for trains and hike in private bus fares by 100% due to the holiday rush. Extra buses will be provided to and from Pune,  Paratwada, Mahur, Pusad, Amravati, Akola, Yatatmal and Shegaon, among other places.
The step has come as relief for students, working people and others hoping to go home to their families during the Diwali break. Ten extra buses are expected to depart from Pune alone. The buses will leave from Nagpur to Pune on November 7 and from Pune to Nagpur on November 9, at 6:20 pm, 6:40 pm, 7:20 pm, 7:40 pm, 7:50 pm, 8:00 pm, 8:00 pm, 8:10 pm, 8:20 pm, 8:30 pm and 9:00 pm. Luxury buses will also be plying, with tickets worth Rs. 895. An additional Rs.7 will be charged for prior reservations.
The number of buses will also be increased for Bhai Dooj, will is on November 15 this year. MSRTC has decided to run three extra buses on 5:30 pm, 6:00 pm and 7:15 pm on the day after Bhai Dooj. MSRTC also intends to increase the number of buses, in case of a rise in demand. Seats in the buses to and from Pune can be reserved online.