Export of Chartered Accountant Services Implies Effective Connect Beyond Borders – CA Prafulla Chhajed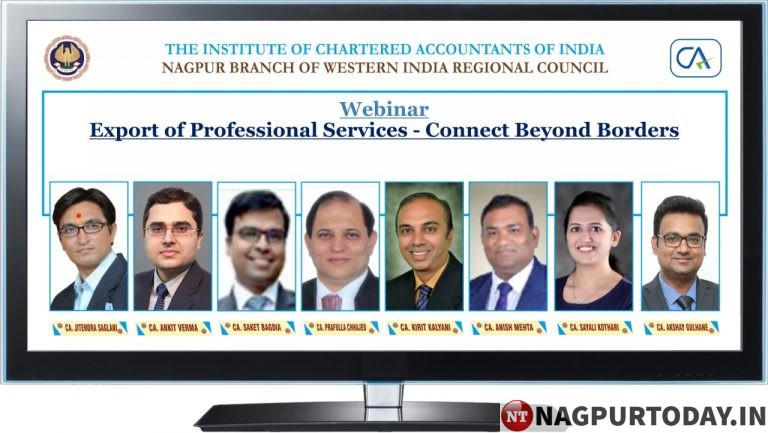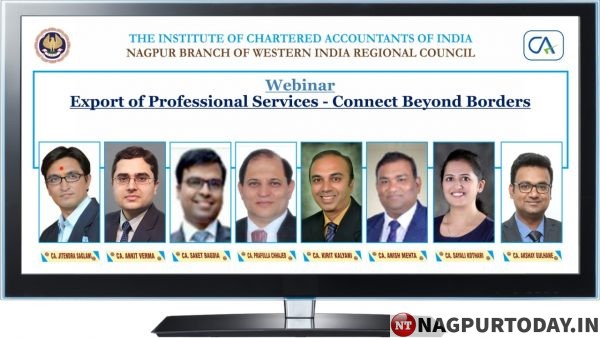 Nagpur: Recently Nagpur Branch of WIRC of ICAI, successfully hosted Webinar on – "Export of Professional Services – Connect Beyond Borders". The current global health crisis in the form of COVID-19, has put the things temporarily on pause mode. But, the phase has compelled us to think that, rendering of services to a client at a distance of 15 Kms. or 15000 Kms. through online mode, is one and the same. To carry the said thought process further and to effectively make use of surplus time at disposal, Nagpur Branch organized International Webinar, for the very first time in the history of Branch, to help members update their knowledge base, with respect to the areas concerning extending services to clients situated abroad or clients with business bases abroad.
CA. Prafulla Chhajed, Mumbai, Hon. Immediate Past President ICAI,lent gracious presence to the webinar and guided the members attending, with his inaugural key note address on the occasion. He congratulated Team Nagpur led by CA Kirit Kalyani, Chairman, for planning apt webinars including the one on hand, for the benefit of members in profession. He added that, Export of Chartered Accountant Services necessitates Effective Connect Beyond Borders including in terms of clients, infrastructure, team strength, etc. He graced the webinar and lent his words of wisdom on the occasion. He being at the helm of affairs few months back, shared his rich treasure of knowledge as regards the prospects for Indian Chartered Accountants, at various countries in the world. He insisted on setting up required infrastructure to ensure adding clients abroad, for extending professional services. Initiatives and arrangements made by the Institute of Chartered Accountants of India, were shared to extend required insight to the members as regards plethora of opportunities for members desirous to serve business entities located abroad. He wished all good wishes to Nagpur Branch in its ventures and members in profession, before concluding his key note remarks on the occasion. He spared his valuable time to resolve some critical queries of the attendee members, as well.
CA. Kirit N. Kalyani, Chairman, Nagpur Branch of ICAI, in his welcome remarks, extended warm welcome to the attendees of the webinar. He further welcomed CA Prafulla Chhajed, Hon. Past President, ICAI, for gracing the International Webinar with his valuable presence and agreeing to deliver inaugural remarks. Chairman also duly welcomed, the speakers including from beyond borders,CA Anish Mehta, Chairman, Dubai Chapter of ICAI, CA Ankit Verma, Canada and CA Sayali Kothari, Pune, who had agreed to take great efforts and share their treasure of knowledge with respect to scope for export of professional services, beyond borders.
CA. Kirit N. Kalyani, went further to add that, on account of unfortunate outbreak of COVID 19, even though slowdown, set backs, etc. are being witnessed in financial arena, in almost every country of the world, such things are bound to be over, at the earliest possible time.To make members aware of the various appealing areas in profession, Nagpur Branch has organized this webinar in the best manner possible, for serving the members, he remarked. He recognized the efforts of other branches of WIRC, for taking efforts to spread words about the program and enabling more members to take benefit of the deliberations. Before wishing to have joyous and fruitful learning sessions, he appealed the attendees to remain in touch with efforts and ventures of Nagpur Branch to stay updated at all times.
CA.Anish Mehta, Chairman Dubai Chapter of ICAI, shouldered responsibilities as valuable speaker, very well. He shared various professional opportunities available and effectively convinced, why UAE is considered as Land of Opportunities. He guided the participants with respect to various appealing opportunities including Audit and Assurance, Risk Advisory, KPO, Transaction Advisory Services, Tax Advisory and Technology Support Services. He went on sharing his experiences at UAE and conveyed that increase in automation of tasks is going to enhance requirement and role of Chartered Accountants for professional services required.
CA.Ankit Verma, Canada, effectively dealt as a speaker on the occasion. He guided the members watching the webinar live on you tube with respect to expectations from Indian CAs' to effectively add Ontario, as well to their professional ambit. Right from guiding as regards requirements of having a work permit or permanent resident status, to quality of work, to trust and transparency in collaboration, he went on to satisfy the members attending with nearly all sort of guidance needed in the matter. He discussed various avenues that can be explored for spreading wings in professional arena. These included Use of Artificial Intelligence in fields of Accounting, Review & Audit Engagements, Valuation Services, Forensic Accounting, etc. He conveyed that as technology is changing at a fast pace, it is imperative to enhance the IT and data management skills to effectively excel in future.
CA. Sayali Kothari, Pune, took great efforts for coordinating with the other speakers as well. Her research by interacting with various authorities concerning different industrial sectors, was evident in her address as the third speaker on the occasion. She gave full justice to the topic, International Banking & Beyond – Opportunities and Readiness. Her rich experience of serving in banking sector, while she was abroad, was shared very effectively to enable the members to have much needed direction and guidance, to effectively plan for the said arena. She touched various crucial avenues, in her talk. She discussed aspects such as Legal Entity Controller, Due Diligence and Anti Money Laundering, Portfolio Management, Regulatory Reporting, Risk Management, etc. She went on and on to lend treasure of experience she had, to the members attending the webinar. She also guided with respect to relevance of Six Sigma Methodologies in the matter of improvement of processes to ensure best quality of output.
CA Akshay Gulhane, Chairman WICASA, effectively coordinated the webinar. He moderated the questions raised during the program and helped resolve the same through speakers. Prominently present among the attendees included CA Saket Bagdia, Vice Chairman, CA Jitendra Saglani, Secretary, CA Anil Chikodi, CA Aniruddha Shenwai, Chaimen of various branches including CA Simran Lilwani from Pimpri Chinchwad, CA JalajBaheti from Akola, CA Vipul Patel from Amravati, CA Jitendra Thakker from Bhuj, CA Bhavessh Thakkar from Anand, CA Varsha Deshpande from Goa and CA Rohan Andhale from Nashik.