Exodus claim: Protests greet BJP delegation in Kairana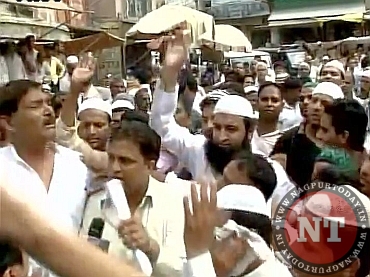 Kairana: Residents of Kairana on Wednesday protested against the nine-member BJP team that has reached the town to probe into claims of mass exodus.
The delegation comprising Bagpat MP Satyapal Singh, Saharanpur MP Raghav Lakhan Pal, Aligarh MP Satish Gautam, former Uttar Pradesh DGP Brij Lal, senior BJP leader Suresh Khanna, Aawala MP Dharmendra Kashyap, Bulandshahar MP Bhola Nath Singh, Gorakhpur MLA Radha Mohan and BJP's Human Right Commission Wing national president Sudhir Aggrawal had arrived here for an on-the-spot evaluation of the situation created by exodus of Hindus.
Senior BJP leader and Lok Sabha MP Hukum Singh had released a fresh list of 63 people who, according to him, migrated from Kandhla town in Shamli district. He had earlier released a list of 346 persons who migrated from Kairana to other places owing "threat to their life and property".
He alleged that goons belonging to the ruling Samajwadi Party have created so much terror among poor and weak that they have no option but to migrate to safer places.
The local MP alleged that extortion, land grabbing, crime against women have become the order of the day in the area.