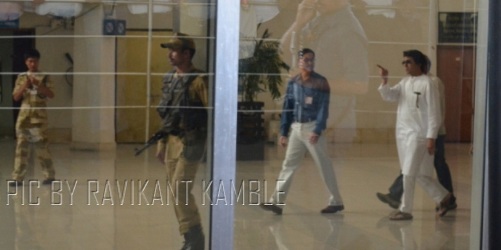 Nagpur News: Maharashtra NavnirmanSena president Raj Thackeray cancelled his scheduled meetings with office-bearers of Nagpur district on Tuesday. "He announced the decision this morning," party's chief organizer Parag Pradhan. Earlier on Monday he had similarly called off his Bhandara visit where he was to interact with the party office-bearers of Bhandara and Gondia districts.
It was on Sunday evening that he returned here from visits to Chandrapur and Wardha districts that formed first leg of his planned 10-day tour of the region, Since then he has been 'resting' at Cottage 9 of Ravi Bhavan. There have been confusing signals about his sudden change of plans that have left party men, eagerly waiting for days to meet him, totally disappointed.
East-Vidarbha division organizer of the party Hemant Gadkari informed media that Raj was exhausted after completing the hectic first leg of his Vidarbha tour. Doctors have examined him and advised rest.
"He is conserving his energies for the Amravati public meeting which is expected to be a massive draw and the only public engagement in the whole tour," said Pradhan.
Gadkari said that the tour was specially arranged with a view to give chance to taluka and district level office-bearers to have open dialogue with him. Normally senior leaders like us meet him in Mumbai regularly but lower down the rung such interactions are rare," explained Gadkari. However, sudden and unexplained changes in his programme have denied them this opportunity.