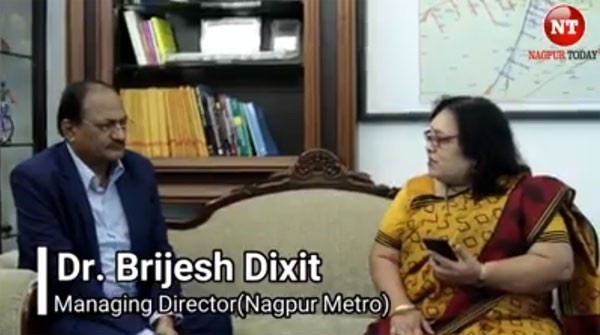 Nagpur: MahaMetro is very much in trend these days in Nagpur, especially for the ongoing metro rail project in the city. As the commuters encounter heavy machinery works right in the middle of the roads, the gigantic project is gradually making its presence felt in the urban scape of Nagpur. And the man behind the show is Dr Brijesh Dixit, Managing Director of MahaMetro, who is spearheading the mega project with a degree of perfection, barring few unfortunate incidents.
With the project on the run, it has also opened plethora of job opportunities for the unemployed youths in Nagpur and connecting areas. And Dr Dixit is making sure the local people get maximum job opportunity through making the knowledge of reading and writing Marathi compulsory for the landing the jobs.
This apart, the heavy girders being launched along with the vertical giant pillars have become the common sight now a days. Nonetheless, the traffic snarls and the vehicular conjestion that follows, have almost turned major stress for the commuters. But as they say, behind every development there is patience and some pain too.
At a time when every Nagpurian is optimistic about Majhi Metro – the metro rail project in the city, Nagpur Today caught up with Dr Dixit and quizzed him over the recent incidents that put the works under controversy.
In a detailed conversation with NT, Dr Dixit elaborated on the safety measures being undertaken to to ensure the citizens have safe and smooth commute while the project works are on. Also he drew attention towards the new job avenues the ongoing project has opened up…
Take a look