Exclusive Interview of Abhijit Kokate (Editor of Queen)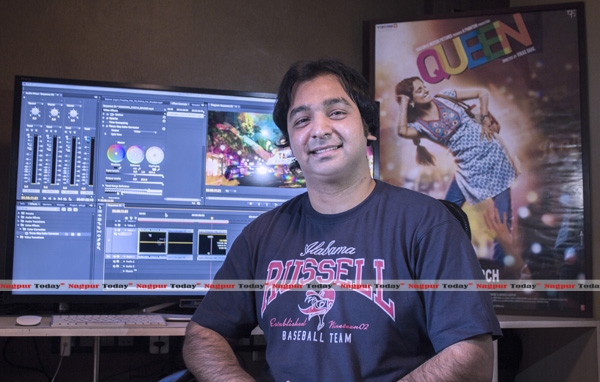 Many youngsters from smaller cities and small towns dream to be in the media and glamour industry. But mostly they are intimidated by the stories told by people about the maya nagari and its darkness. Sometimes they are intimated by their own dreams. Few have guts to move from comfort zones to the action centres. And when really talented people do that, they succeed. It's that simple. Embrace your dream, go all about it and it will turn into reality.
A candid interaction with Abhijit Kokate, man of the hour for his success as editor in this week's release "Queen", proves the above statement. Queen is getting rave reviews from critics as well as public and is unanimously loved by all. There's hardly anyone who did not like the film. Abhijit's life has surely changed for better post last Friday and he is basking in the glory. However, it was very sweet of him to contact NagpurToday.in for appreciating the movie review of "Queen". I seized this opportunity to request him for an interview which he generously accepted.
Abhijit is very much a Nagpuri boy from heart. He recalled his days in Nagpur in the law fraternity as his family is in law business. Abhijit did his bachelors in law from Law college in Nagpur and then went London to do his Masters. Though he was involved in theatre in school and college, he never dreamt of doing anything in films or or media. It was when he saw the impact of Indian Films on foreign audience, he realised how much Cinema affects the masses.
Then came "Rang De Basanti" which changed his life. Seeing the effect of this film on society, he discovered that Cinema is a great medium to convey stories and leave an impact on the lives of people. At that point he decided that he wants to get into the world of Cinema.
It was hard for the family of lawyers to digest his decision but they eventually agreed and Abhijit started to look for admission in different Film schools like FTII and Xavier. Everywhere he cleared the exams but was asked only one question which he could never answer to the satisfaction of the interviewer. The question was "Why do you want to get into Film Making?" Abhijit had no answer than to say "Because to tell stories" which he still thinks is the most genuine answer to that question.
So he took another path and joined film editing in an institute in Mumbai. Though he could not get good teachers to teach him the art of Editing, he appreciates that he got good infrastructure and community. While getting his hands skilled on technicality of editing, he started to read a lots of books on art of editing and watched hundreds of movies to see how each shot is cut. He put whole heart in it and developed the desired skills.
While he was still doing the course, he attended an event called "Digital Kranti" where Ram Gopal Varma aka RGV was a guest of honour. Abhijit knew this is his shot and he took it. He went straight to RGV and pitched for himself. To his surprise, RGV casually said "OK. Let's meet" and took his number.
After few days, RGV called Abhijit and gave him footage of "Not A Love Story" to come up with a trailer. Abhijit worked hard on it for a week and presented his cut. RGV loved what he saw and offered the film to Abhijit as an Editor. Abhijit said "Even if the job was almost free one, I practically moved into his office and started living there while working on the film" which is what RGV liked and taught him practically every aspect of film editing while working on the film. Then he also gave him his another film "Department" starring Sanjay Dutt and Amitabh Bachchan.
As both these films were digitally shot on multiple Canon 5D DSLRs, it was a huge amount of footage to go through and shape the story. Abhijit said "Earlier it was easy to edit the film as the scenes were properly logged and Director would mark the approved shot making it easier for the editor to choose final shot. With Digital Films, there is huge footage through which an editor shape out a story for then Director to then refine it further"
He continued, "And it was even more tough with RGV because he is an unpredictable man who can come up with edit changes on a day before release. But I am internally grateful to RGV as he is the man who does not fear to give chance to newcomers."
After finishing "Department", Abhijit also completed "Ab Tak Chhappan 2" where he built a special rapport with Nana Patekar. But newer project offers from RGV seized to interest Abhijit. So he started meeting people and looking for work. In his period, he found that the stamp of RGV on him was taken negatively by people. Abhijit said,"People used to say, Oh, RGV ke editor ho. Thik hai, we will get back to you and they never called back. Even my friends started saying who will give you work now as all your movies are flops."
Still Abhijit kept on his quest for good work which landed him at Phantom Films. There was a requirement for an editor to edit the "making of the movie". Abhijit accepted the work as the budget for making of the movie was so big that it was more than the combined amount he got for his 3 films earlier.
Abhijit came up with a trailer for the "Making of the movie" which is a first in the world. Abhijit said, "They loved the trailer a lot and then asked me what I did in past. When I told them my RGV experience, then Anurag said 'Oh, Hamari hi biradari ke ho!' At that time they were also looking for Editor for the main movie but couldn't get anyone good due to budget constraints. Anurag Kashyap was also busy in his own Directorial projects. So Anurag asked the Director why don't you Abhijit and this is how I was hired."
"Then I edited the 5 hr plus footage to 2.5 hrs and presented it to Anurag. Then he sat on it with me for around 2 weeks to get his vision incorporated and further got it down to 2.4 hrs. After that with Director Vikas Bahls inputs the movie's final version was locked." He continued, "I was apprehensive on few scenes in the movie but went along with Director's vision. For example I didn't think the Sex Shop scene would be acceptable by the audience. But when I see people laughing at that gag, I am also learning."
When asked whether he has any special experience to share about Anurag Kashyap, Abhijit said "He is so busy that used to come to work and talk only about work and films. So did not get any special experience with him but he is brilliant in what he does. I am specially fond of the Director Vikas Bahl who is a very nice guy and has produced so many good films in past."
Now as he is in the right circle, he is having interesting projects like Tere Bin Laden 2, Vikas Bahl's next and promotional work of Anurag's Dream project "Bombay Velvet". He has also started his own company "Kaichi Productions" which will be doing making of the films for film makers and eventually his own films. He is also going to direct an adventure travel show with Gul Panag. He also feels he must give back to his Marathi lineage and hence also doing a regional film "Poster Boys" with Shreyas Talpade.
Then he soon plans to start working on his own film as Director. When asked if that was the plan from start, he said, "Yes of course. I came into Cinema for its power to affect people positively. Even if my cinema changes life or thinking of 2-3 people, it will be my success."
Abhijit is very proud of Nagpur and says, "There are a lot of technicians in the industry from Nagpur. It make me happy when I tell others that Rajkumar Hirani, Subhash Ghai, Sonu Sood, etc are from Nagpur"
While wrapping up the interview, I asked did if anything changed for him? He chuckled and said, "Number of Likes on my every Facebook posts has increased drastically"
More power to you Abhijit. We hope and pray that your vision will always be beyond the sky and feet always on the ground. We are sure your story will inspire others from Nagpur to go out there and "Just do it"
:: Prashen Kyawal