Top Notch Doctors share exchange research and knowledge know how at Peadiatrics 2013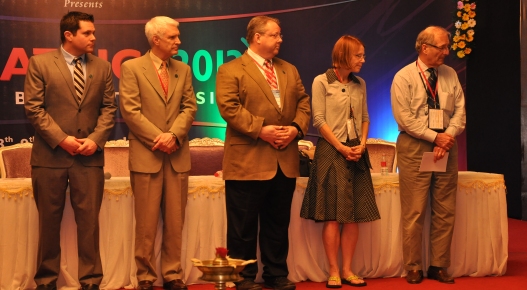 The Pediatrics 2013 Conference concluded with high note on Sunday 10th. The 3 day conference had Top National and International Physicians taking part in workshops and lectures exchanging wonderful Medical Knowledge and Resources. It was a confluence of Traditional Medical teaching and exchange of new information.
This Prestigious academic feast was conceptualized by Eminent Pediatrician Dr.Satish Deopujari who had invited well known International Faculty to provide training and education on various advance aspects to Health care professionals who had come from different parts of the country to attend this conference.
While speaking with 'NagpurToday' Dr Bonita Stanton,US author of Nelson book of Pediatrics said , " I feel honored to take part in this conference. It was spectacular event of educational exchange of information and resources aim towards caring for children regardless of country they are born in.India has contributed such a nice Physicians toUSA. There will be more such conferences in around the world where both the Doctors fromIndia and US will work together to educate."
 Dr. Zimmerman,US author of  Textbook of  Pediatric Intensive care, while talking to 'Nagpur  Today' said, " Outstanding conference , excellent invited Speakers and Local Speakers but even more important the audience was very engaged with all the presentations. Very energetic and interesting conference good as any conference I have attended."
Dr. Robert Diblasi,US, author of Textbook of Perinatal & Pediatric Respiratory care, said, " my goal coming toNagpur is to train Physicians the use of advance therapy of non evasive respiratory support and evasive mechanical ventilation. This is my third visit toIndia and I will come back as much as needed to train the Physicians to take of children.. It is been a unique conference with excellent conversations and workshops."
Prof. Anupam Sibal , Group Medical Director, Apollo Hospitals, said, "fantastic conference bringing together leading experts from overseas and National Faculty it is a great start and very welcoming move. I really applaud the organizers for doing so."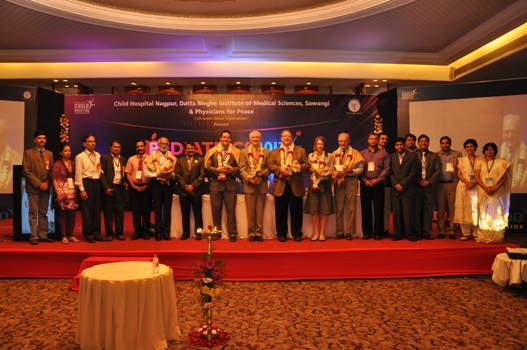 Students who pursue Medical field, when they enter medical school definitely read books of 'Nelson text book of Pediatrics , Zimmerman text book of Pediatric critical care , Goldsmith text book of Neonatal ventilation. These text books are considered Bible in field of Pediatrics . The eminent Authors of these world famous text books like Prof. Bonita Stanton, US, Prof Zimmerman, Prof Edward Karotkin, Dr Christopher Foley and Dr Robert Diblasi delivered mind blowing lectures and workshops and Doctors from all over India came to hear from them.
These International Faculty with the Indian Doctors conducted hands on training and workshops on Advance Mechanical ventilation & Pediatric critical care, Applied Life Sciences: Anatomy/Genetics / Metabolic Disorder and Introduction to Mechanical Ventilation for beginners and many other advance medical topics.
The organizing committee consisting Dr.Satish Deopujari, , Dr. Sanjay Deshmukh, Dr Anand Bhutada, Dr Chandrashekhar Fande, Dr Vishram Buche ,Dr Rajendra Saoji and the team worked hard for the success of the conference.