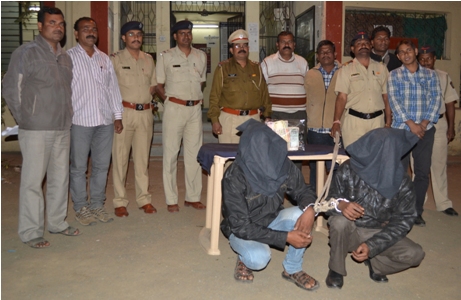 Nagpur News:
City police chief K K Pathak's initiative to introduce additional patrolling vehicles at 23 police stations to prevent crime and public safety seems to have started showing its results. On Thursday night, patrolling squad of Gittikhadan police stations claimed to have nabbed two youths after they looted cash total Rs 85,000- from Wadi toll naka and twice from Dabha toll naka. Also, Tehsil police has nabbed two for transporting drugs during patrolling on Thursday evening.
Interestingly in the case, on the allegations made by the complainant, Rajendra Deshmukh, police have also booked ex-corporator Rajesh Mate and Anil Raut alias Annaji, a criminal and brother-in-law of NCP woman corporator, Seema Raut if Bidipeth, for allegedly planning dacoity. Besides, gambling Raut has many offences registered against him.
Within fourty minutes after the message of robberies at toll naka's was aired on the walky-talky around 1.30 am, patrolling squad headed by PSI S P Shewade nabbed Rajesh Jangle (30) and Ashish Jha (25) after a long chase near Dabha in Gittikhadan.
Police said that besides Deshmukh's allegations, Jangle and Jha, both resident of Ambedkar Nagar in Wadi, has spilled the names of Mate and Raut in the crime during interrogation.
"They claimed that they have committed the crime on the orders of Mate and Raut but denied to know the reason behind it," said police.
According to the police report, Jangle and Jha seems to have started off from Gittikhadan area in a four-wheeler. They first looted cash Rs 40,000 at knife point from the counter of Dabha toll naka and gone to Wadi toll naka, where they robbed cash Rs 15,000. Later, they again came back to Dabha and made away with cash Rs 30,000. However, their greediness landed them in the police net.
By the time the thieves could flee, employees at toll naka have alerted the robbery to police control room. Immediately, the message was spread to patrolling cops who then conducted a strict checking on the same route which helped them to nab the robbers.
"We have informed that vehicle's colour (silver) which helped Shewade to nab them. The duo tried to give a skip to the cops, but landed in the police net," informed police.
Police sources informed that the dacoity was planned over the rivalry between Raut and Deshmukh, who has been given the tender for revenue collection of toll naka. Sources said that earlier, Raut was given the tender but later given to Deshmukh causing rivalry between the two. Raut and Mate are not yet arrested.