The Ideology of  Panasonic's founder followed by Anchor's every employee.
Nagpur Today: In an exclusive interview with Nagpur Today, the Vice President- Sales Ashok Gangar said that he would like to start with Anchor Company which was established in 1963 as Anchor Electricals Pvt. Ltd. Over the last five decades, Anchor has managed to capture the attention of every citizen in this country. It started with a humble vision of manufacturing electrical products of outstanding quality at a time when the market involving electrical switches or wiring devices was handled by the unorganized sector. The advent of Anchor not only organized the sector, but also brought electrical accessories into mainstream commerce. As a brand, Anchor signifies Trust, Safety and Reliability. These qualities have helped Anchor carve a niche for itself in the electrical accessories market.
The Anchor Electricals was taken over by Panasonic Corporation. Today Anchor Electricals is a wholly owned subsidiary of the Panasonic Corporation. Panasonic acquired Anchor, the 50-year-old Indian family-owned electrical equipment brand, in 2007. The company produces low-voltage electrical switches and accessories, switchgear and protection devices, wires & cables, lamps & luminaires and fans. It also sells home automation products from Panasonic.
Ashok Gangar said that in India the annual turnover in Sales is 2200 Rs crores. He added that after the taking over, Panasonic has brought about a lot of changes. They have spent crores in establishing Quality Standards, Production activities etc.
Gangar also said that by 2018, we intent and aim to become a complete Electrical Solutions Company.
He added that in every office and showroom, they have displayed their Mission Statement which they strive to follow to the word.
The company has established many manufacturing units situated at Haridwar (3 units), Rourkee, Daman (2 units) and in Kutch in India. The investments for these plants are more than Rs 200 crores each and will produce a complete range of wiring devices.
Anchor is solely responsible for the manufacturing and marketing of world-class eco-friendly products that have added value to the lives of people. The ideology of Panasonic's founder, 'Konosuke Matsushita' drives the everyday business at Anchor. Gangar said that the ideology stated that the company must contribute to society through its business as a public entity.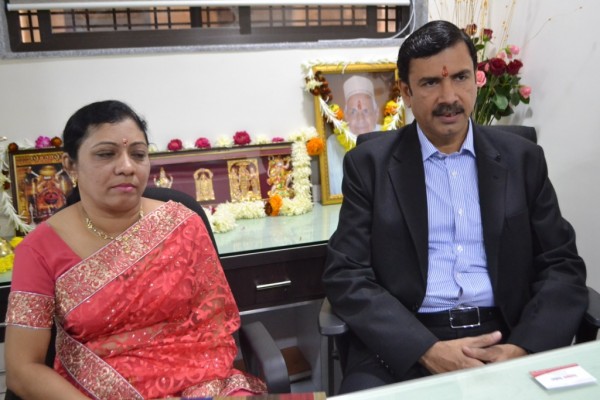 Anchor is a part of the second largest conglomerate in the electronics industry. As a proud part of the Panasonic Corporation that is located in Japan, Anchor has taken it upon itself to conserve the environment, thus paving a path to a safe, healthy and environment friendly lifestyle. Anchor's merger with Panasonic resulted in a fusion of technological expertise and vast distribution strength. Today, Anchor offers a wide range of more than 3000 exciting products across various product groups. These products are sold with the help of 5000 dealers and 450,000 retail outlets.
While speaking about the recession, he said that it did not hit Anchor that much. Since Anchor (Panasonic) is an MNC, the R&D and other inputs from their foreign counterparts have resulted in the manufacture of quality products which looks and appeals to the Indian customers. Some of the products have to be changed and customized to cater to the Indian needs and likings. Gangar added that they have the biggest dealer network. They have introduced a lot of value added services like Customer care etc.
While clarifying hi stand on LBT, he said that for the development of a city or a state, finances are required, and we as company would certainly pay all statutory bills and even LBT if the state of Maharashtra requires us to pay it.
Gangar said that they have recently introduced Anchor Certified Electrician (ACE). The young and unemployed youth or those youth who are already pursuing a career as an electrician are trained and sent to institutes. Thse youths have to undergo the entire training including appearing in examinations. They are then given a certificate and are called ACE. The company spends a lot of money on them. However, he clarified that these ACE are neither employees of Anchor nor are they employees of the showroom or the shops.
The Regional Head of Sales (West) looking after Mumbai and Maharashtra Bavesh Ajmera accompanied Gangar.