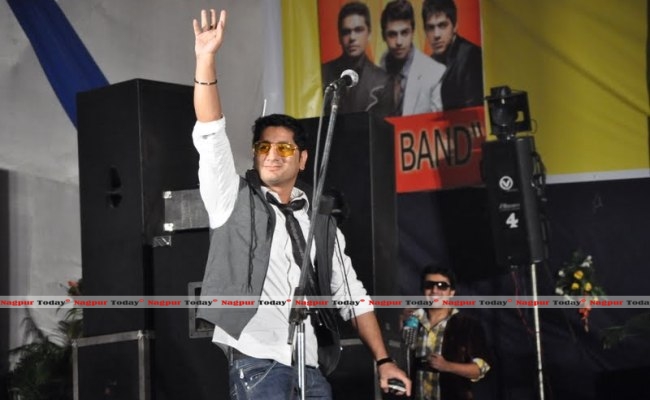 Nagpur Today.
Continuing with our interaction with the bright new and shining event managers of the city, Nagpur Today gets candid with Sanjay Kukreja, Event Organizer,  Balaji Entertainments in the the series, Here's low down on Kukreja detailing finer nuances of his event managing aspects…
-Tell us something about yourself?
What do I say! I'm Sanjay Kukreja as you know. Event organizer based in Nagpur, schooling from Delhi.  My
company, Balaji Entertainments deals with Event, Outdoor Media, Movie Promotions, In Film Branding, Was a student of B.Com Commerce! I was interested in studies, wanted to be a computer engineer; family business of accounting was the thing I had previously been involved in. I'm not afraid to tell that I have done salesmanship as well, at my uncle's shop. And I would surely mention, Nagpur since always has been a comfortable place for me, that's why I love staying here.
-How did you get started with events in Nagpur?
My first grand event was youth singer Shaan's live concert in Nagpur. That's where I got started from. Plus, if we find the way, we get it! So I ended up getting my way of managing events in Nagpur.
-When did you become an 'event manager'?
Honestly speaking, I still feel I'm not an event manager, since the definition of event manager has changed. Since around last five years, various courses of event management have been introduced in Nagpur. Those are the people who are called 'event managers' these days who've pursued such course with nominal experience. But that's not true. Event Management needs a lot of hard work, which comes from more and more experience and hardships faced in life. Although I didn't pursue any course, I am a person, who manages events quite well; in this way I'm surely an event manager since my live concert with Shaan in 2003.
-Which are your major events that took place in Nagpur?
Katrina Kaif Live In with many other bollywood stars, which was one of the major events of Nagpur.
The time when three Khan Brothers (Salman, Sohail and Arbaaz), came together for Nagpur visit and promotion. It was the grand Dabang Concert, I guess this was one of the biggest events of India. And many more.
-Is anything else your profession apart from managing event?
Surely I'm a businessman as well. I have a garment shop cum salon in Nagpur. However, I look forward to expand my horizons and groom the part of my management company, Kalakruti Sanstha more.
-What all changes do you think you were able to introduce in Nagpur?
I would definitely mention that I brought superstars of Bollywood to Nagpur, and made them openly reachable to audience. I even feel that I'm successful in changing a celeb's mentality positively about Nagpur.
-What struggles are involved in event management?
Many!! Struggle for contacts, for coordination, for sponsorships, for permissions, and lots more!
-Which was the worst incident that happened to you as an event manager?
That Nagpur Me events haat me nai aate! People trust you after putting in a lot of efforts, buttering I must say! What can be worse than that? But I'm lucky that people here trust me. However I try hard to always get what I desire, so nothing as such is bad for me. But I would mention an example that made me doubt the capabilities of big firms; we had superstar Salman Khan scheduled for a visit to Nagpur, when I approached Radisson Blu, Nagpur to grant a stay for him. They refused saying that they won't be able to arrange the security required for a star like Salman! I was shocked! Such are the incidences that we have to face at times, wherein big banners as well fail to help.
-How did you initially get assigned with events in hand? And of what types?
Initially, I myself strived a lot. Shaan's event was arranged by me. Then after that, the charge of celebrity visits has come in my hand. I am very thankful to Nagpur market, as it has a lot of potential and celebs themselves look forward to visit this city, hence my efforts are automatically reduced.
-How exactly did you get in touch with the celebrity managers? How did they respond to you? (Good/bad?)
Through contacts and following a lot of them, of course!
-How and at what all instances exactly do you get a profit margin when it comes to earnings?
Though my company, by selling tickets at times, etc. As an agency we undertake movie marketing and promotions, by tying up with production banners. The source of pay depends on types of movie in hand. At times we even take projects in hand just as a part of our commitment, even though no profit is earned.
-What all are the things that you spend upon during an event?
A lot of things! The general expenses, which I won't mention in detail (laughing).
It has been considered that event management is a vicious field, many good/bad things are involved in it. What do you have to say about it?
I feel every field is vicious; but if we talk about making investment in this field, the factors involving problematic situation are definitely more.
-Which is the best and the worst thing about this field? 
The best thing definitely is that you encounter name, fame and glamour. On the other hand, the worst thing being, at times your own beloved ones fail to understand you. You are left with no time for your personal life.
-What are your future plans for Nagpur?
I wish to bring Amitabh Bachchan to Nagpur, that being a mega event. I even desire to conduct a Hollywood Show in Nagpur under our company banner.