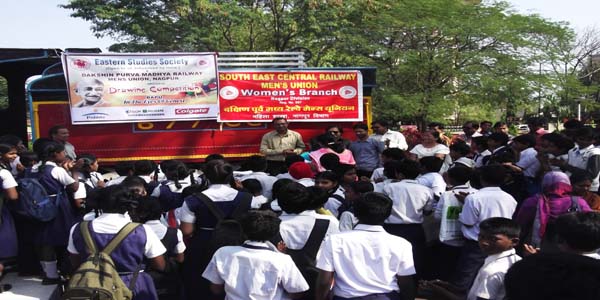 Nagpur News : To mark the occasion of Martyr's day 30th Jan ESS and SECRMU jointly organize a drawing compition for the kids "Bapu in the eyes of Next Generation" at Narrow Gauge Railway Museum. As we observe the day on 30th Jan for the schools since last 4 years.
There were about 400 children who participated for the event from Bhola High School, Mecosabagh High School, Sharda English High School and Swastik High school. There were 10 children who were awarded the consolation prize along with 1st 2nd and third prize. Mr. Anand Chandrani Mr. Chetan Marwah Dr. Kavita Dikshit and Mrs Nandeshwar Judgd the drawings of the children. Guest of Honour was Dr. Mahima Dalvi a teacher getting retiered tomorrow. Also coordinating the event were Mrs Jayanti Raman Ku. Beena Navghare Mr. Macchindra sawle Shyamal Jana Gulshan Puree Lawrence Cutino.
Speaking on the occasion Dr. Dalvi said that teachers voice can only be heard if the students want to listen to it .The even concluded with some discount coupons from Dominos pizza, Paste and brush set from Colgate and light snacks.