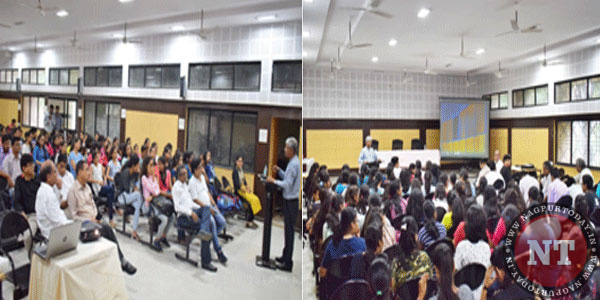 With the motive to encourage and develop the entrepreneurship skills among the students, a session was organised by Laxminarayan Institute of Technology on 21st of July, Saturday. Mr VinodKalkotwar,( Alumni of 1982 batch of B.Tech. LIT) founder and president of Kalozal Consultants Pvt. Ltd. was the guest of honour who addressed the audience.
He emphasized on the basics of entrepreneurship by discussing on topic "How to start your own business and raise capital?". Out of his vast experience in the field of Industrial Finance he explained to the students about challenges and opportunities in Entrepreneurship as a career.
This session was also bestowed upon by the presence of Dr. M.GBhotmange, Director In-charge of L. I. T., Dr. R.P. Ugwekar, Head of Department, Chemical Engineering, on dais and Mr. A. Deshpande along with the other delegates of LIT Alumni Association.Dr.Bhotmange has elaborated about the contributions of Alumni association. Dr.Ugwekar has emphasized that the regular sessions on the topic are being conducted in the Entrepreneurship Camp sanctioned by NSTEDB Govt. of India in LIT.
Mr.SachinPalsokar, an alumni and Industrialist has proposed the Business Plan competition for the students in near future. All the experts have answered to the queries of the students.
The Alumni Association of college mentioned about providing a suitable platform to students for exploring innovative ideas for start-ups. The students volunteers Umesh, Disha, Lavleena ,Arihant, Bhakti and group have taken efforts in making the programme successful. The program was concluded by presenting a token of gratitude and remembrance to the guest of honour and by a formal vote of thanks.