Ensure justice to deserving persons, former CJI exhorts 68th batch officers of IRS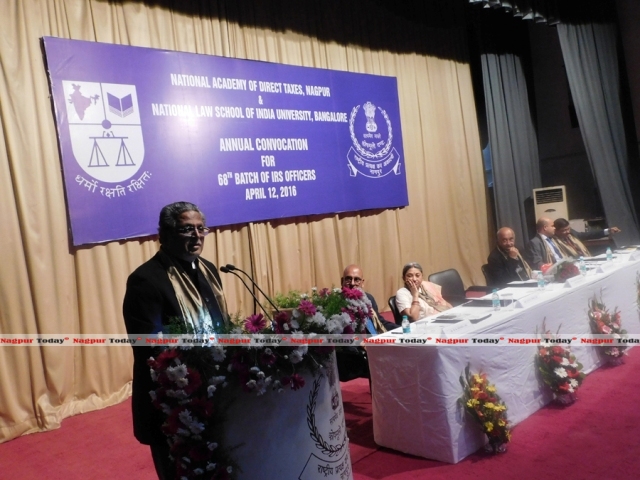 Nagpur: The former Chief Justice of India Dr S Rajendrababu on Tuesday exhorted officers of the 68th batch of Indian Revenue Services (IRS) to ensure that the deserving person gets appropriate justice while carrying out their duties as well as implementing the law.
Dr S Rajendrababu was addressing the convocation ceremony for 68th batch of IRS at National Academy of Direct Taxes (NADT) here on Tuesday. Director General of NADT Gunjan Mishra, Vice-Chancellor of National Law School of India University (NLSIU), Bangalore, Prof Venkata Rao also graced the function.
"Informatiomn is rushing in due to information technology revolution. The officers should analyse the information studiously while performing their duties," advised the former Chief Justice of India.

Around 150 officers of the 68th batch of the IRS who completed the 16-month training would be conferred with an award of Post Graduate Diploma in Business Laws at the hands of NLSIU Vice-Chancellor Prof Venkata Rao.

Most of these officers have come from Uttar Pradesh, Maharashtra, Tamilnadu. The average age of the 150 officers stands at 28 years. The NADT had signed an MoU with the prestigious National Law School of India University (NLSIU), Bangalore in June 2015 to impart necessary training in general and allied laws like Companies Act, Contract Act, IPC,CPC, CrPC, Evidence Act and Transfer of Property Act to the IRS probationers
The convocation ceremony was attended among others by officials of NADT, trainees of 68th and 69th batches.