Ensaara celebrates Rang Utsav to usher in new beginning at Metropark

Nagpur Today: In a first of its kind celebration which was never before seen in the city was witnessed at Ensaara Metropark premises on March 16, 2014.  
With the dusk of winter, spring ushers in a riot of colours, synonymous with fun and excitement that brings to life festival of colours, Holi. The city's new destination, Ensaara Metropark, ushered into a new dawn amidst great fanfare to celebrate the much-anticipated, Rang Utsav, on March 16, 2014. With glitz and glamour taking the center stage, Rang Utsav, saw some of the most prominent personalities.
The grandeur of the party at Ensaara Metropark was amplified when Bollywood star quotients added glitters to the festival of colours organised jointly by Luxora Infrastructure Pvt Ltd and Aanya Real Estate Pvt Ltd in association with Rotary Club of Nagpur. Bollywood celebrities who included Tanushree Dutta and Vishal Malhotra attended the party.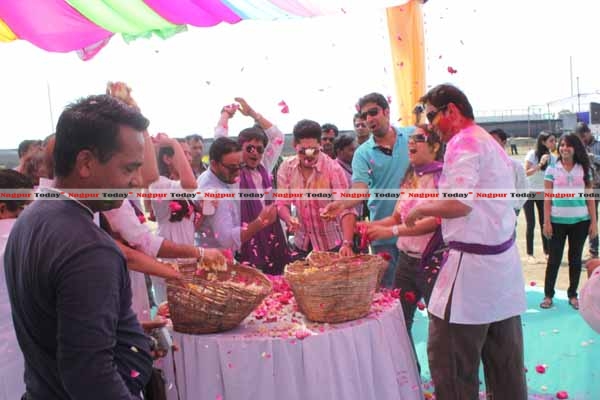 Since all Actors' Association and the city's conscientiousness citizens had decided to save water and ensured that that is displayed in their life too on the theme "Save water-Save Nation", the celebration of the festival of colours was celebrated by flowers instead of colours which requires one to take bath or wash to remove the colours thereby saving water. The entire premises were beautifully decorated and had the best arrangements to cater to the select few invitees and dignitaries.
Tanushree answered some questions of the media, hesitatingly. She refused to divulge on the forthcoming movie, however she said one has to wait and watch.
Ensaara Metropark is indeed Nagpur's new destination which will be a masterpiece creation of the 21 community living," said Bollywood Actress Tanushree Dutta.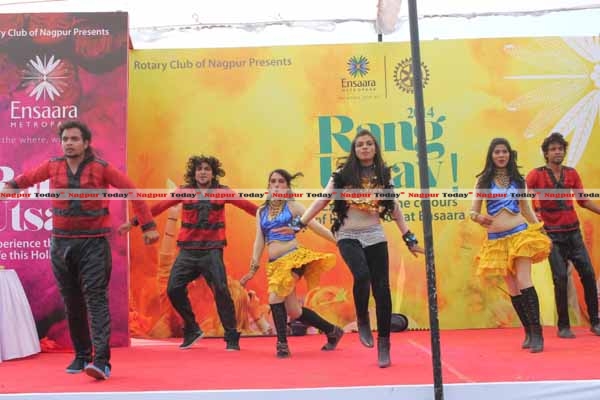 As the tagline states – the where, with all – Ensaara Metropark believes in connecting people with the emotions and moods of all human beings and effectually make them jovial and happy. "We are proud to host Rang Utsav at Nagpur's newer destination, Ensaara Metropark where the Nagpurians could enjoy the colours of Holt in true style. The maiden Rang Utsav at Ensaara Metropark was a huge success. It was wonderful to see people come from Nagpur to participate and mark a new beginning for 2014," said Co-Founder and Director of Aanya Real Estate Pvt Ltd Deepak Vasandani.
Speaking on the occasion, Chief Executive Officer, Luxora Infrastructure Pvt Ltd Sanjay Kothari said, "It is an indeed a special occasion for us to celebrate the festival of colours in association with Rotary Club of Nagpur. We can now confidently say that Rang Utsav is the most happening Hall party of Nagpur."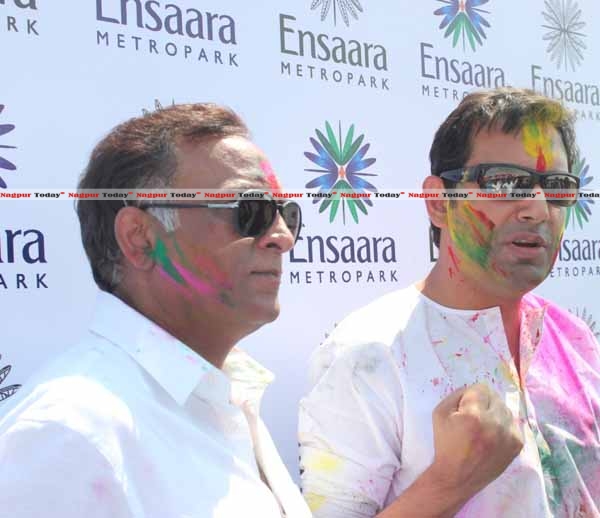 The glamorous, vibrant and exciting party at Ensaara Metropark will groove to the best music spun by DJ Angel as the guests danced to the various songs while throwing festive colors at each other.
Renowned mimicry artist, Sanjay Keni, entertained the crowd with his rib-tickling acts during the programme. Sing Along – Karaoke session by Savio D'Sa captivated the air with his powerful performance.
…By Ravikant Kamble and Vicky Thorat ( Photographer )