City denizens gear-up for Holi

Nagpur Today: As the denizens of the city gear-up to play Holi and the shopkeepers display colour-powders of various flamboyant colours, there are many others who are facing problems too on March 16, 2014.
While the families, which have small babies or children need to stock milk and other dairy, grocery and bakery products ahead of Holi. While the boozers were seen buying liquor for tomorrow's celebrations, from various liquor vends, smokers and small pan vendors were seen buying cigarettes and other tobacco products which can be sold for nearly double the cost on Holi.
Many other shops were seen displaying and selling other paraphernalia of wild celebrations like Pumps (pichkari), colourful caps and other modified headgears, face-masks, noise-making whistles and blowers etc.
Most of the tuition class students who had classes were seen plastered with many colours. Some children in apartments were also seen playing Holi one day in advance.
With the eve of Holi being a Sunday, many families got to go out and buy various purchases for get-togethers and parties ahead of Holi.
Holi, the festival of colours, is enjoyed by one and all. But apart from the fun you have with bright colours, pichkaris and bhang, you should also pay attention to potential problems that you could be facing. Other than your skin and hair which are bound to come in contact with colours, your eyes are the most vulnerable part that can be damaged.
Particles of dry colours can directly enter your eyes due to incessant splashing. Wet coloured water sprayed using pichkaris and water balloons can also hit your eyes and can cause an emergency situation.
When Nagpur Today spoke to some Eye doctors and Ophthalmologists, they opined that synthetic colours contain heavy metals like lead can cause a lot of eye problems like allergies, conjunctivitis, chemical burns, corneal abrasion or blunt eye injury.' So we suggest you to take required precautionary measures.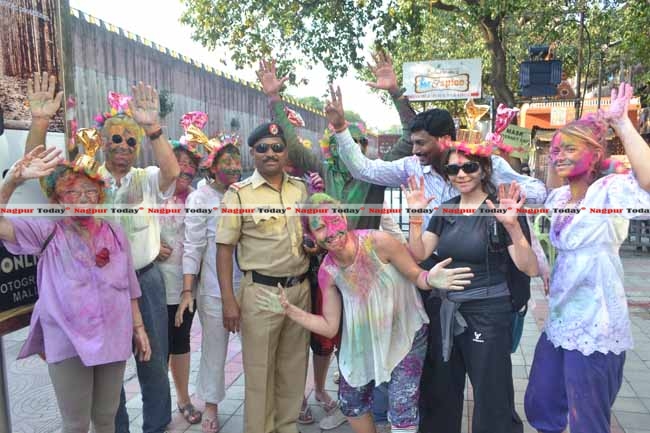 By Samuel Gunasekharan. Pics by Official Photographer