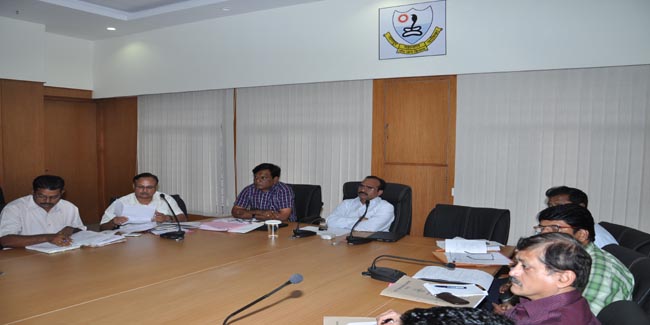 Nagpur News: Taking serious note of steep fall in property tax revenue, the Nagpur Municipal Corporation (NMC) Commissioner Shyam Wardhane directed the concerned authorities to make all efforts to increase the property tax recovery on the expected lines or bang on target. He also observed that despite drastic changes in hundreds of properties the revaluation has not been done, and the recovery of property tax is still going on in the old rates. This was noticed by the NMC Commissioner during his visits to Dharampeth and Dhantoli Zone areas. He immediately directed the Assistant Coomissioner of the two zones to pinpoint the properties and decide on the property taxes according to new rates.
The NMC Commissioner reviewed working of the various tax departments and taxation departments. He also reviewed the recovery of various taxes by concerned departments. Before the review meeting the Asstatnt Commissioner of Zone 1 Ganesh Rathod and the Assistant Commissioner of Zone 3 Vijay Humane informed the meeting about revenues of various departments during the 2013-2014 fiscal.
The Additional Deputy Commissioner Ravindra Kumbhare directed the Assistant Commissioners of all zones to submit reports about pay and parking places zone-wise after a survey. Similarly, Kumbhare directed them to strictly act against the illegal encroachments and recover hefty fines from the encroachers. He asked them complete the target of removing encroachments. Kumbhare also directed the respective Assistant  Commissioner of all zones to survey illegal hoardings and fine heavily against the guilty.
The concerned officials were directed to survey the markets under their zones and get themselves apprised of what the traders are dealing with and recover the taxes according to the ready reckoner. Search for pay and parking places which would increase the revenue of NMC  and at the same time help the citizens for parking their vehicles. Kumbhare directed the concerned officials to revaluate properties and even search for the properties which have totally not paid the tax and complete the target of recovery of property tax, Kumbhare added.
The review meeting was attended among by Tax Assessor S S Hastak, Assistant Commissioners  Ganesh Rathod, Rajesh Karade, Vijay Humane, Mahesh Morone, Raju Bhivgade, Milind Meshram, Subhash Jaideo, Prakash Varhade, Town Planning Deputy Commissioner R S Bhute, Encroachment Controlling Officer Dilip Jamgade, Tax Superintendent Umredkar, Assistant Superintendent Madan Subhedar, and other Tax and Recovery Department officials.