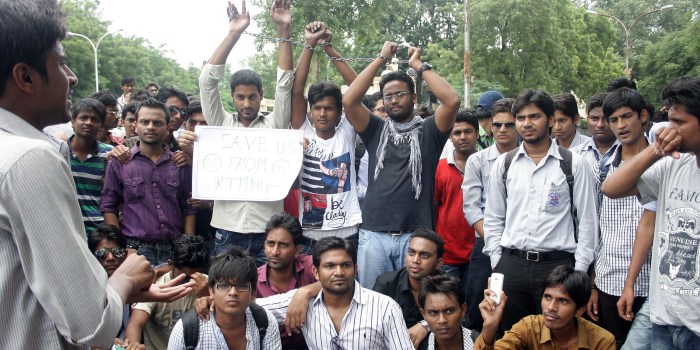 Nagpur News:
The Agitation that started a week before by the students of Pharmacy and Engineering and after the University accepting the demands of Pharmacy students . The students of Engineering from different colleges of Vidarbha are every day demonstrating in various places of Nagpur pressing for their demands to be fulfilled. Just yesterday the students had resorted to a unique protest and begged for change (loose coins ) from the passersby at the variety Square.
Today Engineering  students from Nagpur , Chandrapur , Gondia, Wardha Gadchiroli and Dongargaon under the Aegis of ( Student Organisation of Nagpur wing) gathered at Sanvidhan Chowk  and observed a day long peaceful Dharna. The students are very frustrated at the University's callous attitude as its exam revaluation results are delayed by many days every year. Many students end up losing their academic years having cleared their examination due to this flaw .The engineering examination fees are also charged very high compared to the University's.
And also Pressing the demand for 'carry on' the students representatives today met the Pro Vice Chancellor Mahesh Yenkie , Registrar Ashok Gomase and Engineering Dean Ravindra kshirsagar and appealed to the needful in this concern.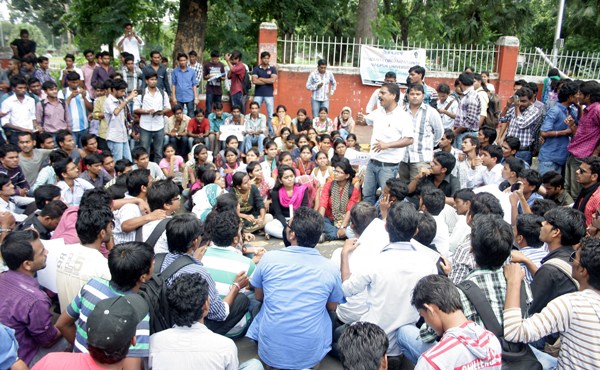 The University officials have told the students that their demands will be taken into consideration and the 'carry on' issue will be placed before the Board of Examination (BOE ) in coming days for discussion.
The students of Rashtrasant Tukdoji Maharaj Nagpur University (RTMNU) resorted to a unique protest against RTMNU on various crucial issues. The students begged for change (loose coins) from the passersby at the Variety Square. The begging protest must have and should have left the RTMNU authorities red-faced, embarrassed and utterly shameful.
According to sources, the RTMNU students, frustrated at the University's callous attitude towards its students, were forced to resort to the begging protest. The RTMNU creates a catch-22 situation for the students every year as its exam revaluation results are delayed beyond its own admission deadlines for the following year.
Many students end up losing their Academic years having cleared all their examinations due to this serious flaw. The University has also increased its examination fees to unbearable heights, immorally turning it into a revenue source. RTMNU charges its students Rs. 2340, while Delhi University charges only Rs. 100 per exam and JNU does not have any exam fee at all. It is almost as if the University does not want the students to appear for exams by any means.
RTMNU also illogically charges the students the full fee to appear for supplementary exams instead of prorating it per-exam appeared for. Despite many appeals and submissions to Vice-Chancellor Vilas Sapkal and other officials on these issues by students, they have only received perfunctory assurances and things go on the same line as ever.
Students have therefore decided to escalate their agitation. Today's protest was an expression of their disgust at the University's attitude, said a student leader Dhiraj Agashe.