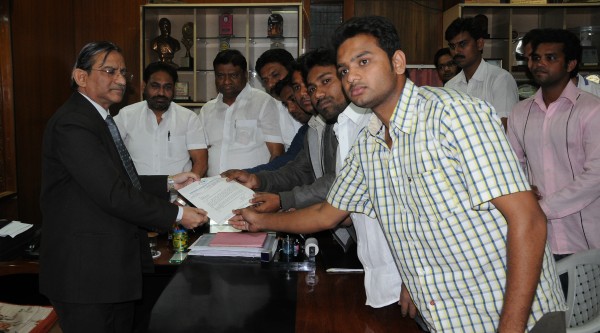 Nagpur News: Nagpur University VC Vilas Sapkal has finally guaranteed a solution to the BE revaluation crisis, giving assurance to students personally, under pressure from State Cabinet Minister Nitin Raut. Raut, Minister of Employment Guarantee and Water Conservation under the Maharashtra Government met with Vice Chancellor (VC) Vilas Sapkal, the Registrar, the Controller of Examinations and other officials of Rashtrasant Tukadoji Maharaj (RTM) Nagpur University this afternoon. Aggrieved students were also present at the meeting and put forward their views to the minister.
In what Raut termed as a "Diwali gift" for the thousands of BE (Bachelor of Engineering) students about to lose an academic year due to lax University functioning, all the complaint forms against revaluation and retotalling will be addressed on an urgent basis when the University reopens after Diwali break on 17th November. Raut has also demanded a probe and action against the evaluators whose lax functioning led to the current crisis. Copies of answer sheets were shown to Raut at the meeting, and he noted and acknowledged the glaring totalling mistakes and the cases where answers and entire sections had been left unchecked by evaluators, leading to students being failed.
"The revaluation and retotalling errors are real problems. It is injustice to the students; the evaluators are clearly at fault. I am on the students' side", Raut told mediapersons after the meeting, "The students need a platform to be able to communicate with the University directly. The setting up of a Student Help Desk urgently has also been discussed".
Youth wings of various political parties like National Students Union of India (Congress) had begun to extend their support to aggrieved RTMNU engineering students after student protests and efforts had led to a historic postponement of University exams at the eleventh hour. The NSUI approached Raut, as a Nagpur- based minister, to look into the issue, and he yielded after the Congress Committee also asked him to do so. The students had begun to lose hope after the much- hyped Academic Council meeting in the aftermath of exam postponement yielded no results and Diwali vacations began to close in. They were visibly happy and hopeful after the meeting this evening.