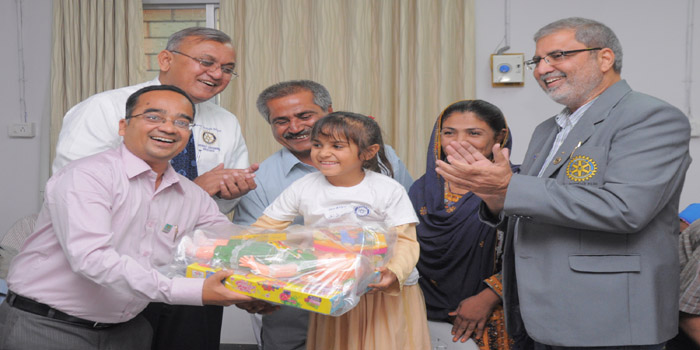 Nagpur News : DIL SE DIL TAK, an initiative taken nearly eight years back has taken new proportions now. Rotary District 3030 undertook to perform Heart Surgeries for children, free of cost. Thanks to Dil Se Dil Tak, hundreds of children with congenital Heart disease, needing surgeries have got a new lease of life. This year this project reached out across borders and three children from Pakistan underwent Heart surgeries.
Riyaz Ali, Bishrat Husain and Baby Mariam Came all the way from Pakistan, and were operated on at Care Hospital. The children and their parents were full of gratitude and appreciation for this effort of Rotary and got emotional while thanking them. While recounting their experience, they were all praise for the doctors at Care Hospital and the efforts that Rotarians took to make this possible. PDG Madhu Rughwani, who can be credited for starting this project in our District was the one who followed up with his counterparts from Pakistan. This is in keeping with the Rotary theme of this year – Peace Through Service.
The three Clubs who led this effort were Rotary Club of Nagpur Ishanya, Rotary Club of Nagpur North and Rotary Club of Mihan Town. Presidents of the three Clubs Kamal Taori, Rajiv Ashtikar and Utkarsh Khopkar were instrumental in organising and follow up. The coordinators for the project were Rajiv Agrawal, Manoj Soni and S.S.Acharya. Dr Varun Bhargava & Dr Saurabh Varshney of Care Hospital, the three children and their parents were felicitated on this occasion. Prominently present on this occasion were DG Sanjay Meshram, PDG Ramesh Khanzode and PDG Madhu Rughwani. Dr Vinky Rughwani of Vidarbha Sindhi Vikas Parishad felicitated the children on this occasion. The programme was compered by Dr Madhusudan Sarda. A host of Rotarians were present on an occasion where the underlying message was that of peace and friendship.
In conclusion, everybody including the children and their family members wished that this initiative would culminate in everlasting friendship between the two countries.