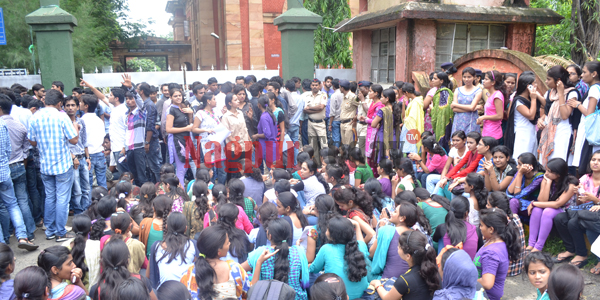 Nagpur News.
Hordes of students from Engineering and Pharmacy colleges affiliated to Nagpur University staged demonstration separately in front of the Vice chancellor's office on Thursday to press their demands over couple of issues, mainly cancellation of supplementary examinations by the university. The siege was later called off after the students were assured of the demands to be placed at the Board of Examination ( BOE ) on Monday and decision will be taken according to the University act' 1994. A written statement by NU officials Pro VC  Mahesh yenkie and Registrar was given to the students representatives.
The day saw high drama in NU as the students in a large numbers stood outside varsity premises, braving rains for about two hours as the meeting continued till 5 pm. A large number of policemen were deployed to avoid any untoward incident.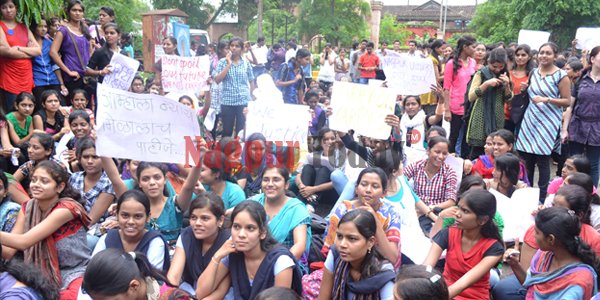 While the students pursuing B.Pharm courses are demanding continuation of supplementary exams (carry on), which, they alleged, have been cancelled by the  University administration. Also, results of first year and third year B.Pharm have not been declared even after 68 days. They also demanded to speed up process of revaluation of exam papers. B.Pharm final year students who failed their examination were expecting to appear for supplementary exams this year, which was usually taken within a month after results were declared. The result of supplementary exam gets out in 45 days, but now the students are in a fix because they would not be able to appear for the same as, practice of conducting supplementary exams have been annulled, claimed students.
Most of agitating students were from Pharmacy colleges of Wardha, The irked student gathered at NU premises and raised slogans in support of continuation of 'carry on' in examination. The Nagpur University premises were surrounded by two groups of agitating students.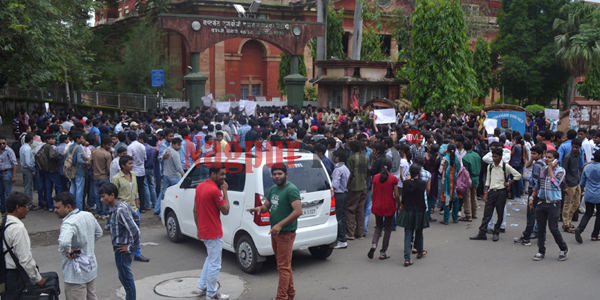 Meanwhile, another agitation of engineering students also demanding 'carry on' in exams and high examination fees was led by Maharashtra Navnirman Vidhyarthi Sena (MNS ).
The MNS Leaders Hemant Gadkari, Shashank Pawar and Mangesh Dukey met Pro VC Mahesh Yenkie and Registrar Ashok Gomase on behalf of the agitating students and submitted the charter of students' demands. Later the university authorities gave a written consent to put the issue up Board of Examination on Monday.