Nagpur Today College News: Green heaven Institute of Management & Research (GHIMR) and Heaven Collage of Education (GHCE), had jointly organizing a mega inter-collegiate techno festival ''Encore 2012" from 30th Oct 2012 to 2nd Nov 2012. The festival carrier a fine blend of Academic, culture & Sports events, which gave an opportunity to the college students from all walks of life to showcase their talent and handsome prizes.
Inauguration function of the event had been held in the college by Ms. Kavita Sharma president of Jai Durga Bahuudeshiya, Jankalyan Santha and secretary of Sanstha Mr. Anil Sharma along with Director of GHIMR Dr. Raaju Ganish Sunder, Principle of GHCE Dr. Vinaya Ransing and students of various colleges were present. The first two days of event held in GHIMR Campus situated off Wardha Road and the events the final two days were held at Shri Sai Sabha Griha.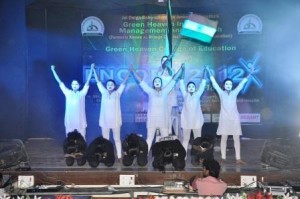 Behind Wocklhardt Hospital, North Ambazari Road, Nagpur on its Nov 2012 event will have a graceful presence of honorable Vice Chancellor of RTM Nagpur University Dr. Vilas Sapkal, Mr. Awadh Pandey  – President & CEO of Jayaswal NECO Group, Mr. Arun saxena – CEO of Easypack Software India Pvt. Ltd. and a host of other dignitaries from the academic and the corporate world.
On first day, 300 entries for the events were registered and about 1500 students were expected to participate in the Various events, viz., Paper Presentation, Business Plan, Debate, Quiz, cricket, singing, Dancing, Personality Contest from various collages of the city.
The event concluded with prize distribution ceremony on 2nd . Nov, 2012 the Prize distribution ceremony would have dignitaries namely Ms. Asawari shenolikar, Editor Twinkle star – The Hitawada, Mr. sanjay Jog, G.M. Times of India and Mr. Sunil Gurbaxani Sr. VP Axis Bank.
GHIMR offers BBA & MBA courrses while GHCE offers B.Ed course in English Medium.