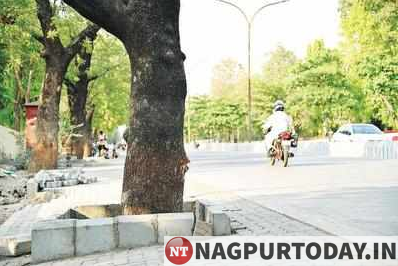 Nagpur: Sending out strong message that development cannot be undertaken at the cost of green environment, the Nagpur bench of Bombay High Court has on Thursday stayed felling of over 500 trees for constructing a temporary road from Bharat Nagar to Maharashtra Jeevan Pradhikaran's (MJP) office near Telangkhedi Hanuman Temple.
A division bench comprising justices Ravi Deshpande and Vinay Joshi made it clear that no tree should be felled without its permission. "The petitioners and respondents agreed that the process of obtaining permission from tree authority is going on. Till then, none of the trees shall be cut or any damage shall be caused to them without our permission," the judges said, before adjourning the hearing till March 28.
Maha Metro and NMC were planning to construct a temporary road which would pass through a lush green patch on the Panjabrao Deshmukh Krishi Vidyapeeth's (PDKV) land, which would involve unnecessary felling of over 500 fully grown up trees. The decision was taken as regular road would be closed for about a year for traffic to pave way for the construction of amphitheatre on Telangkhedi lake.
Earlier, Nagpur Municipal Corporation's (NMC) counsel Gemini Kasat informed that they had already moved an application to its tree authority and it would take a minimum of 60 days for any decision.
"In view of this, the matter can be posted after four weeks, so that this court gets a report from the tree authority. The parties shall be at liberty to move this court, if such contingency arises prior to the next date," the judges said.
The amicus prayed for appointing National Environmental Engineering Research Institute (NEERI) or any other competent agency, to study the impact of infrastructure works being undertaken around the Telangkhedi Lake and give a report regarding environmental impact of these projects. He also demanded stay on the tender notice of January 1, issued by the NMC for beautification of Telangkhedi lake and restraining it from felling the trees on road from Bharat Nagar.
Shukul pointed out that the city had at one point nine large waterbodies or lakes that serviced the water needs of the residents. Over the years, this number has drastically fallen and as on today, there are only three lakes that cater to the needs of the citizens.
They are — Gorewada, Telangkhedi and Ambazari lakes. The remaining — Pandharabodi, Sonegaon, Sakkardara, Shukrawari, Naik and Lendi lakes — have either been converted into residential areas or have shrunk down to the size of ponds due to activities in catchment areas.
The road in question is being constructed on a piece of land which is near the Telangkhedi Lake, which is one of the last three major reservoirs in the city.