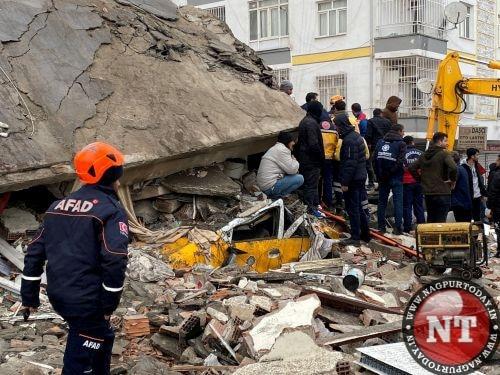 A powerful 7.8 magnitude earthquake hit southern Turkey and northern Syria early Monday, toppling hundreds of buildings and killing at least 641 people.
Hundreds were still believed to be trapped under rubble, and the toll was expected to rise as rescue workers searched mounds of wreckage in cities and towns across the area.
On both sides of the border, residents jolted out of sleep by the pre-dawn quake rushed outside on a cold, rainy and snowy winter night, as buildings were flattened and strong aftershocks continued. Rescue workers and residents in multiple cities searched for survivors, working through tangles of metal and giant piles of concrete.
On the Syrian side of the border, the quake smashed opposition-held regions that are packed with some 4 million people displaced from other parts of Syria by the country's long civil war. Many of them live in buildings that are already wrecked from past bombardment.
Hundreds of families remained trapped in rubble, the opposition emergency organization, called the White Helmets, said in a statement. Strained health facilities and hospitals were quickly filled with wounded, rescue wo