"Duvidha" to hammer out problems, dilemmas of students, pave way for vibrant future career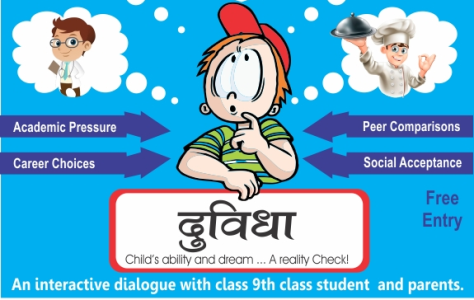 'Duvidha – Child's Abilities and Dreams…A Reality Check' event is being organized by ONE foundation for class IX students and their parents on December 14, at 6 PM at Scientific Society Hall, Aath Rasta Square, Lakshminagar.
The objective of the event is to focus on the challenges in popular Beat Career's  and opportunities in Off-beat careers through experts in respective careers and  address typical issues  career-related dilemmas of students, Parents – Children (students) disagreements on various issues like Career selection, Social networking, etc. through Panel discussion.
In this event, eminent people from fields like Medicine, Engineering, Finance, Hotel Management, Fine Arts etc. will talk about the required skills, challenges and opportunities in respective careers. This will be followed by a Panel discussion where Poonam Menaria, professional career counselor and Dr. Jaya Shivalkar, eminent child and adolescent psychologist will address the dilemmas of students in fore-mentioned areas. Audience queries related to career will be answered by experts during this event.
Class IX students of more than 15 schools in Nagpur are expected to attend this program.
With the primary intention of benefit to society, this program is FREE for audience.