Jackpot : Movie Review by Prashen H. Kyawal


Jackpot : BEST example for WORST movie
Cast: Naseeruddin Shah, Sachiin Joshi, Sunny Leone, Makrand Deshpande
Director: Kaizad Gustad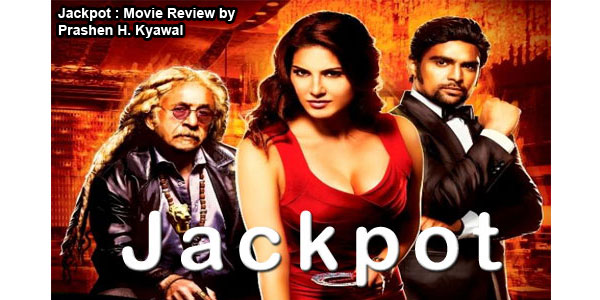 Kaizad Gustad has given us famous rap song "Mumbhai" from his debut movie "Bombay Boys", Katrina Kaif from his second movie "Boom". We can thank him for these contributions but not for his films. His films have been self indulgent creations with whacky character and almost non plot lines. Kaizad attempts to come this time with a con movie.
Con movies are great entertainers if they have good screenplay, stylish direction and outstanding performances. Films like from films like Jewel Thief to Kaante, Aankein and then to recent ones like Bluff Master, Badmash Company, Johny Gaddar, etc has been appreciated by movie goers. The foundation of con movies is interesting game plan to achieve the goal of the protagonist which is mostly money, love or revenge. However "Jackpot" has  game plan which I doubt only the writer Kaizad Gustad finds invigorating. You will need to find a story in the movie.
Again in Director's seat, Kaizad Gustad takes a long ego trip thinking he is creating something unique and out of the world. In reality, what he creates is a tasteless spaghetti of convoluted story line which does not connect with the audience at all.
The director with the help of Film Editor Yasser Abbas chooses a non-linear editing style with multiple flashbacks. Rather than engaging the audience, it confuses them more. One can guess the happenings only after interval. Otherwise, it feels like witnessing unrelated talks between a group nearby where we have no clue or connection about the topic or story. Total disconnected.
Since Boom, I always wonder how can Kaizad Gustad convince good actors to accept his crapy films. Be it Amitabh Bachhan in Boom or Naseeruddin Shah in Jackpot, he is always successful in roping few good actors to get face value  and weight to the project. Must salute him for his convincing power. But then he also has a great skill to completely waste such great talents and intact make them say cringeworthy dialogs and deliver over the top performance. Actors like Naseeruddin Shah, Makarand Deshpande provide the required screen presence to gain audience attention however, fail to retain it due to the below the belt dialogs and overacting.
The hero of the film is played by gutakha baron turned actor (?) Sachin Joshi who has zero screen presence. Infact, whenever camera is on him, it feels watching blank frames. He does not look like the mastermind game planner con artist as he repeatedly says about himself in the movie. I will any time prefer Himesh Reshmiya instead of him who looks somewhat similar to Sachin in some angles and stubble look.
Sunny Leone has nothing to offer on the acting department while does have few bold scenes. It must be hard to get her act. To continue getting good films, she will need a great director who is expert in extracting the actor out of any person. Otherwise will soon be history. Other actors too have nothing to mention about.
There is nothing good to write about any other department. Infact, it is best ignored.
Overall, if you watch short films on internet, you will be better off this weekend. Can I sue in consumer court for such bad movies?
Rating : Zero
Recommendation: SKIP!