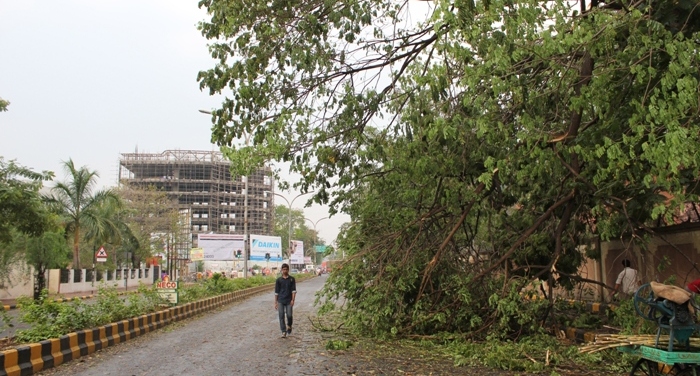 Nagpur News.
As the raindrops wet the parched lands of Nagpur on Saturday afternoon, albeit in very little quantity, the city reeling under unbearable heat condition got some moments of relief. The mercury has touched searing 43 degree Celsius over the past four days, and the sudden change in weather certainly brought cool respite to the Nagpurites.
Slight hail showers were reported in Civil Lines area while Ramdaspeth and adjoining areas received light rains. However, some of the areas did not report any rains with scattered clouds covering the sun.
However the heavy winds that blew into the city caused slight damage to property. Two electric poles in Civil Lines were reportedly uprooted and two trees fell each at High Court and in front of G.S. College, jamming the streets to congest the traffic. The traffic was later cleared.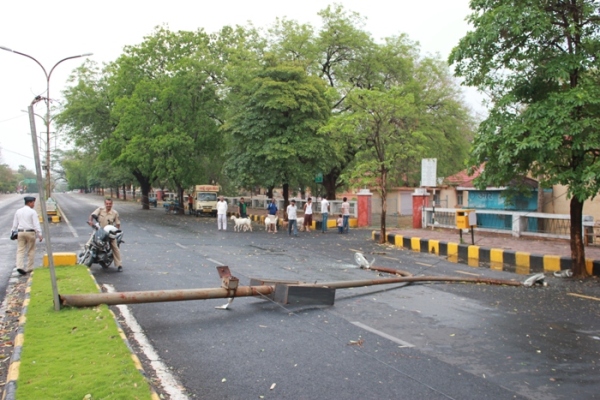 Till afternoon, the weather was as usual and the temperature was running on a soaring high. Eventually the clouds started surrounding the skies of Nagpur and in no time winds picked up pace to shake the trees. The downpour has filtered the city air with fresh aroma of soil spread around.
However, met department saw nothing unusual to changed weather. A met official informed Nagpur Today that during summer particularly at its onset, weather sees similar fluctuations only to return to the routine after a short break.