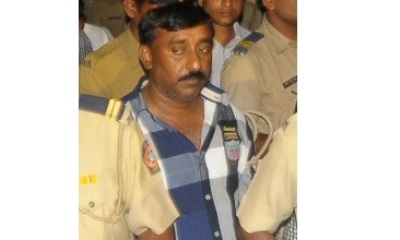 Nagpur News.
The usually busy government super speciality medical hospital saw some special visitors crowded there to see their mentor, albeit in crime – the dreaded goon Raju Bhadre. Bhadre, who has been serving life sentence in Nagpur's central jail, was brought to the hospital for treatment. So consistent was the flow of well-wishers and visitors that the police had to call additional force to monitor the situation. It is learnt that Bhadre was being given VIP treatment whereas similar other inmates do not receive proper attention when they need medical care.
Long queue of vehicles
Many supporters of Bhadre drove towards the hospital with all their strength when they got the news of Bhadre coming out of jail for treatment. A long fleet of vehicles was queued up inside the hospital premises. The visitors also included his aides who were acquitted of the charges for the lack of evidence in the court's recent verdict. The relatives reportedly broke into tears on meeting Bhadre. Finding the crowd gathering beyond proportion, the police deployed for his security had to call more force after which the cops heaved a sigh of relief.
Out of jail for 5 days!
Sources informed that Bhadre has been out of jail for the last 5 days whereas the jail superintendent Ganesh Mahalle has not confirmed this. Mahalle only informed that Bhadre was sent to super speciality hospital after he complained of chest pain.
Bhadre was found guilty of murdering Pintu Shirke in Nagpur district court building. Pronouncing the verdict in the case, the court has recently sentenced life imprisonment to Bhadre and his accomplices Vijay Mate, Umesh Dahake, Kiran Kaithe, Dinesh Gayki, Hitesh Gawande, Ayub Khan and Kamlesh Nimbarte. His other aides Rajesh Kadu, Mangesh Chavan, Pandurang Injewar, Sandeep Sanas and Mahesh Bante Navva alias Maruti Walke were set free for the lack of evidence. Another criminal Raju Gaikwad has been absconding. Shirke's was allegedly murdered following the dispute over encroachment on 21 acres of land in Sakkardara.
During a special search drive at Central Jail recently, a mobile phone was recovered near the barrack where Bhadre has been kept. This had created furor over other prisoners' security in the jail. It may be mentioned here that the said case was exposed by Nagpur Today. Following the report, the state CID had also contacted jail administration for inquiry into the matter.
Bhadre was involved in series of crimes and many cases were registered against him. Sources even indicated his connection with underworld.