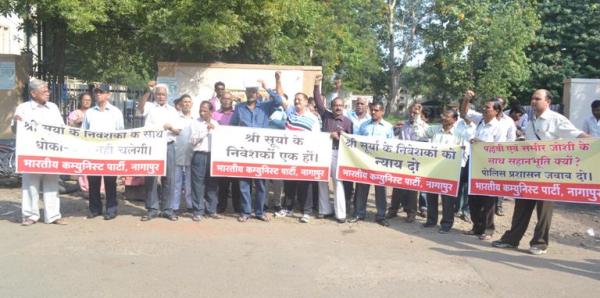 Nagpur News.
In a scathing letter to the Collector, the Communist Party of India (Marxists) Secretary Jammu Anand has demanded stringent action against the agents of Shreesurya Group on Tuesday. Anand has also requested the Collector to open an independent counter to look in to the complaints of investors in the District Collector's office.
Anand has asked the Collector to hand over the probe in the multi-crore Shreesurya scam to the Commissioner of Police, who would personally supervise the investigations. Further, the list of investors and their investments should be made public, stated Anand. Apart from this, he has demanded the immediate arrest of the 'Maharaj' at Anjangaon Surji, the alleged brain behind the scam.
The Joshi couple, which are at the centre of the scam, have taken Rs 21,000/- as membership fees from the investors. Where have the money gone, asks Anand. The total investments run in to 800 crores, says Anand. Though the investors are spread over the entire state of Maharashtra, they are mainly from Nagpur, Chandrapur and Amravati.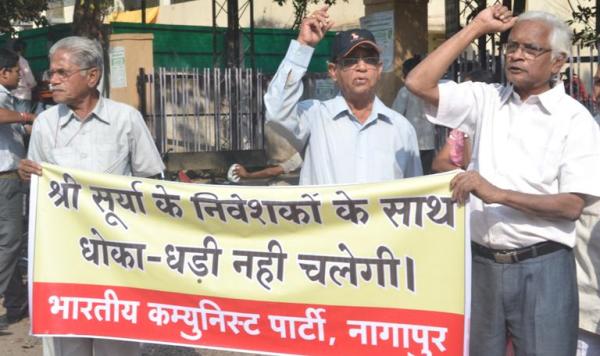 Anand said that it was not possible for the Joshi's to double the money in a year. The reason why they promised such huge returns was to make black money white, and hence they floated such schemes. According to Anand, two categories of people invested in the group. One was the middle and lower middle class mainly comprising of government employees, retired persons, traders, journalists, etc, but their investments are small. However, the other category is of people who wanted to make their black money white and this constitutes most of the investments in the group, claims Anand.
A senior leader of the Bharatiya Janata Party has invested close to Rs 8 crore in to the scheme while there are many corporators who too have lost their money. Anand claims that the entire scam is the result of well crafted conspiracy and big names are involved in it. He has requested the Collector and the State Government to delve in to the scam in detail and bring out the names of culprits who are still sitting behind the curtains.