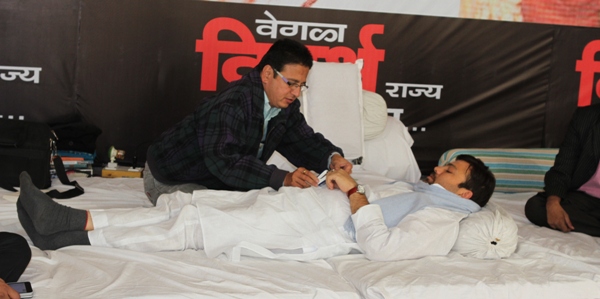 Nagpur News.
The indefinite fast undertaken by Dr Ashish Deshmukh for pressing demand for Vidarbha statehood entered the Day-5. However, the health of Dr Deshmukh deteriorated as a result fast since five days. Dr Deshmukh is on indefinite fast since December 6 at Bhaskar Bhavan premises near MLA Hostel in Civil Lines.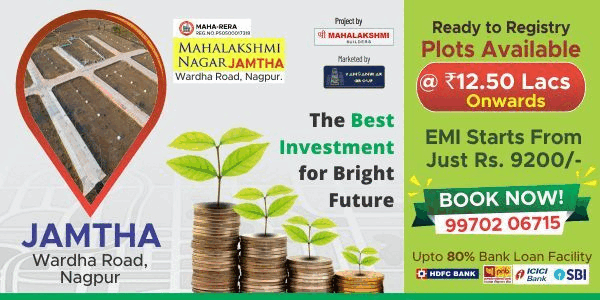 Badnera MLA Ravi Rana and Morshi MLA Dr Anil Bonde visited Dr Deshmukh and enquired about his health. Dr Deshmukh requested both the MLA to raise their voice in Vidhan Sabha for Vidarbha State on the lines of Telangana. Ravi Rana and Dr Anil Bonde assured Dr Deshmukh they will put pressure on Government for proposal on creation of Vidarbha State and supported Dr Deshmukh for his efforts for Vidarbha State's cause.
"No leader has come forward in real sense for independent Vidarbha State and overall development of Vidarbha. The rulers neglected Vidarbha's development for political selfishness. Mumbai and West Maharashtra got developed and Vidarbha remained backward. Industries in Vidarbha are downing shutters. There is no water for farming due to massive backlog in irrigation. The educated youths are leaving Vidarbha for employment. Naxal movement is has got bolstered. Mihan project is lagging behind. The Vidarbha State can only develop the region in all ways. Therefore, MPs should raise Vidarbha issue in Lok Sabha on the lines of Telangana," the pioneer of "Youth for Vidarbha State" and Convener of Vidarbha Joint Action Committee Dr Ashish Deshmukh opined.
"When a referendum was carried out in Amravati, 85 per cent of people favoured Vidarbha statehood. A referendum in Nagpur will also be conducted on December 16. Vidarbha is far away from development and until and unless Vidarbha State is carved out, Vidarbha's people and youths would not progress, said Dr Deshmukh in weak voice.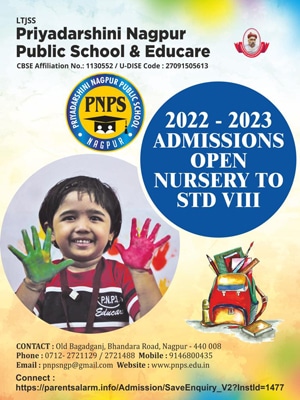 The fifth day of Dr Deshmukh's fast saw several prominent personalities visiting the venue and extending wholehearted support to him for his demand for creation of Vidarbha State. Those who paid visit to Dr Deshmukh include Mukundrao Pannase, Salil Deshmukh, Babanrao Taywade, Dr Sanjay Dhokne,  Adv Abhijit Wanjari, Dr Vasant Shirbhate, Navneet Tuli, Buldana's Datta Patil, Narhari Gavai, Akola's Gajanan Kamble, Vishal Sarkate, Washim's Jugalji's Kothari, Bhimraoji Kamble, Bhandara's Ramesh Supare, Bacchu Thakur, Gondia's Adv Virendra Jaiswal, Adv Yogesh Agrawal, Vidarbha Autorickshaw Union's President Vilas Bhalekar and other dozens of personalities visited Dr Deshmukh wished him success in his efforts.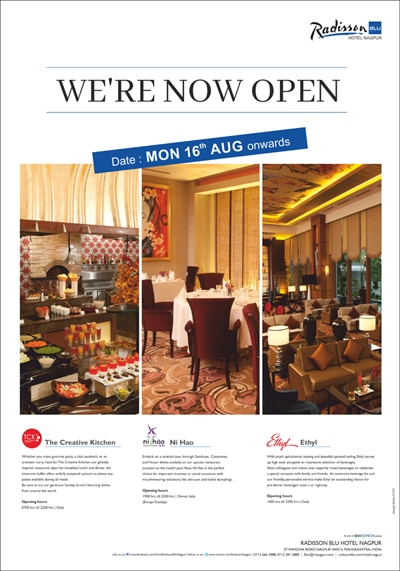 Dr Ashish Deshmukh's demand for separate Vidarbha has started to gain momentum with large number of youths, different social and political outfits voicing support for Dr Deshmukh's demand for Vidarbha statehood.
Several supporters of Vidarbha statehood have now losing patience and commenting harshly as even after five days of Dr Deshmukh's fast, no visible action has been seen from Government.