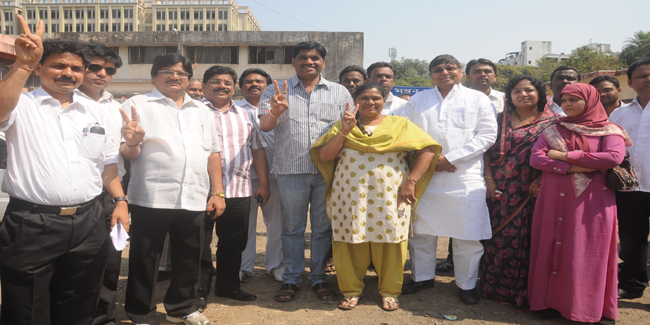 Nagpur News: The poll results of District Planning Commission in Nagpur are finally out after the last leg of counting finished on Friday. The election was held on Wednesday for 28 posts. There were 54 candidates in the fray.
106 nominations were received for the DPC elections for 40 seats. 40 candidates pulled out of the contest on the last moment. As per the agreed terms, 12 candidates were unanimously elected while 54 candidates were left to battle for 28 seats.
Candidates from Nagpur Municipal Corporation who managed to mark victory over the finishing lines include Raju Lokhande, Anita Wankhede, Divya Dhurde, Saroj Bahadure, Manisha Kothe, Alka Dalal, Saarika Nandurkar, Prerna Kapse, Sandeep Joshi, Duneshwar Pethe, Deepak Kapse, Parinay Phuke, Harish Dikondwar and Aslam Khan.
The elected ones from Zilla Parishad include Shanta Kumre, Nisha Sawarkar, Shakuntala Hatwar, Bharti Godbole, Vijay Deshmukh, Upasrao Bhute, Pushpa Deshbhratar, Subhangi Vaidya, Pranita Kadu, Ujjwal Bodhre, Shubhangi Gaidhane while those elected from Nagar Parishad quota include Ranjit Safelkar, Gangadhar Rewatkar and Pushpa Kargaonkar.
Out of the 20 seats falling under NMC, 6 candidates for OBC quota were elected unopposed. These include Sanjay Balpande, Sanjay Mahakalkar, Jagdish Gwalbanshi, Meena Tikde, Rekha Barahate and Jaishree Barahate.
Of the 17 Zilla Parishad seats, the candidates elected under general category are Manohar Kumbhare, Ukesh Chavan, Shivkumar Yadav and Jaikumar Verma. Ambadas Uke has been elected from SC whereas six candidates including Keshav Kumbhare were chosen unanimously under ST category.
Seats distribution across parties is as under
Heads                        BJP+      Cong+     NCP      Shiv Sena       Total Seats 
NMC                          14              5                 1              –                                  20
ZP                                 9              6                  1             1                                   17
NP                                2              1                  –               –                                     3
Total                        25               12                  2            1                              40