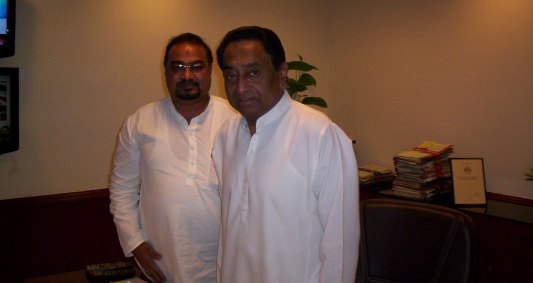 Nagpur News:
Haider Ali Dosani, former member of All India Handloom Board, met Union Urban Development and Parliament Affairs Minister Kamal Nath at Delhi office Nirman Bhavan and submitted a memorandum of demads. Dosani urged Kamal Nath to push efforts of Nagpur MP Vilas Muttemwar for metro rail service in Nagpur ahead. Dosani appealed Kamal Nath to ask the Maharashtra Government to send a proposal to Central Government in this regard and get the proposal sanctioned by the UPA Government.
Dosani told Kamal Nath that Nagpur is an important hub for business activities and controls the business activities of 48 districts of Vidarbha, Madhya Pradesh, Chhattisgarh, and Andhra Pradesh. Thousands of traders, businessmen, industrialists visit Nagpur and carry out transaction in crores daily. Similarly, the traffic in Nagpur is turning more and more gigantic proportions. The Nagpur city is developing squarely and rapidly against the backdrop of MIHAN and Cargo projects. If the present picture on all fronts is not taken care of the future would be chaotic and of untold suffering for the Nagpur citizens, warned Dosani.
The Nagpur MP, Vilas Muttemwar, keeping in mind the enormous problems in future, is making all out efforts for metro rail service in Nagpur on the lines of Delhi and Kolkata, Dosani said and added the efforts of Muttemwar should bear fruits. He urged Kamal Nath to see that Maharashtra Government sends a proposal in this regard to Central Government.
Dosani praised Muttemwar for untiring efforts for starting a metro service in Nagpur. The Maharashtra Chief Minister Prithviraj Chavan should immediately send a proposal for starting metro service in Nagpur and should get it sanctioned by the Central Government, Dosani said.