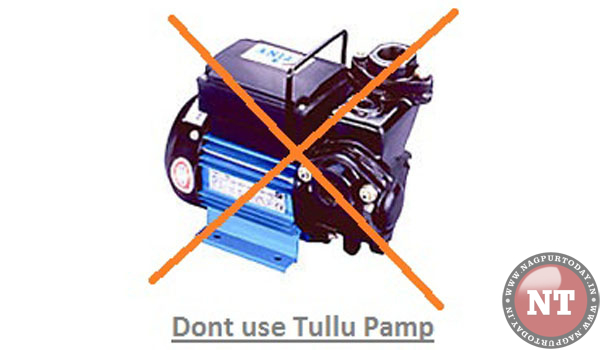 Nagpur: The scorching summer heat of Nagpur has been already hovering around 45 degree Celsius mark. Particularly in such heat wave condition that is Summer, it is often seen that some people start using (illegally) the Booster (Tullu) Pumps to fetch more volume of drinking water from the pipelines.
Thus, because of such illegal act they not only snatch water from their own neighbours but also from nearby localities, which is not just unlawful but is also immoral.
Using booster pumps is a punishable offence as per NMC's water bylaw and strict legal action can be initiated against the defaulters. This year, NMC-OCW has firmly decided to initiate legal action as well as disconnection of tap connection, especially against those who are illegally using Booster (Tullu) pumps to fetch more volume of water supplied in their areas.
It may be mentioned here, the Nagpur Municipal Corporation (NMC) and Orange City Water (OCW) have already identified areas where such booster pumps have been used extensively. Special zonal teams have also been constituted to raid the house, seize the pump and lodge legal action or initiate disconnection process in this regard.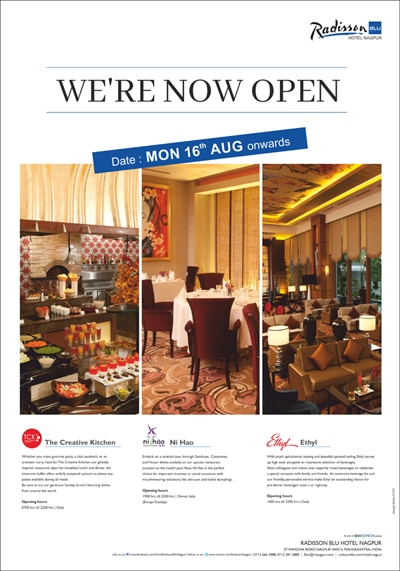 It must be mentioned here during recently started "Tullu Pump Seizure Drive" jointly launched by NMC-OCW almost 39 pumps are seized in just few days from localities like Gopal Nagar, Surendragadh, Ambazari, Tekdi Wadi, Bheem Ngar, Labhan Tanda, Vishwakarma NagarRaghuji Nagar, Tandapeth, Lal Darwaza, Dasra Road, Darshan Colony etc.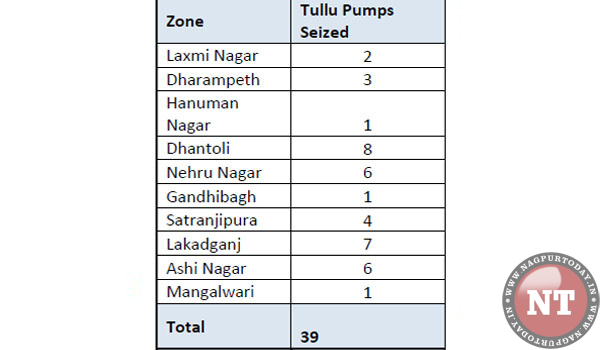 NMC –OCW have formed special 10 zonal teams under supervision of NMC Delegate and OCW zonal mangers for carrying out surprise inspections and due action would be initiated against the defaulters.
The special squads for the drive has started surprise visits across the city and have taken stern actions against the defaulters.
It may be mentioned here as per the NMC's Water Rate Bylaw "If a booster pump or any other contrivance is connected directly to the communication /supply pipe then in such an event, the Executive Engineer or his authorized representative in addition to disconnecting the water supply shall seize such contrivance without notice and the Consumer shall be prosecuted by the Corporation. The seized material shall not be returned in any case: Provided that the cost of restoration of water supply shall be borne by the consumer".
OCW-NMC appeals citizen not to use booster (Tullu) pumps. They also appeal the vigilant citizens if they find booster pumps being used they should inform the OCW's 24×7 Toll Free Helpline at 1800-266-9899 or similar information can be passed on to Zonal Managers/NMC Delegates at NMC-OCW Zonal offices.
Toll Free No: Citizens can make any water related query, complaints at OCW on a Toll Free Helpline- No 1800-266-9899