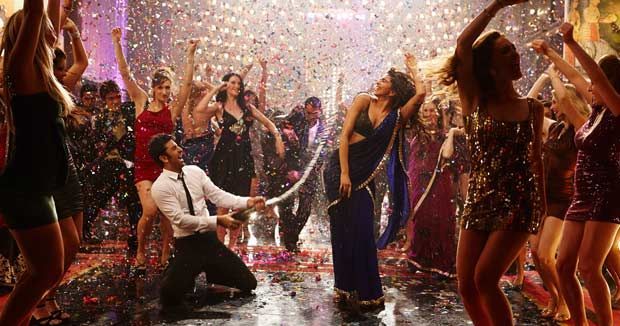 Cast: Ranbir Kapoor, Deepika Padukone, Aditya Roy Kapur, Kalki Koechlin
Direction: Ayan Mukerji
The Dharma Production's film, which had created a hype before its release for several reasons , pairs for the first time the ex-lovers Ranbir and Deepika together after their bitter break up in 2010. The two had earlier worked in a hit film Bachna Ae Haseeno (2008). Ayan Mukherji is a close buddy of Ranbir and, since beginning, wanted to cast the ex-lovers.
Plot: Ranbir Kapoor (Kabir Thapa aka Bunny), Deepika Padukone (Naina), Kalki Koechlin (Aditi) and Aditya Roy Kapur (Avi) go on a trek. While Bunny, Aditi and Avi have always been close, Naina, the staid, studious girl is a last minute addition to the group. The group just wants to live life king-size. Early enough in the film, Bunny announces—marriage at 25, children at 30, retirement at 50 and then waiting for death—is not how he sees his life playing out. He wants to travel the world over, he wants to be free. Aditi and Avi share his thinking to a degree. But Naina is different. She is studying to be a doctor, believes in family traditional values, too.
The first half of the film has a great "masti", second half is all hate-love me back story. In short, talking about the stars playing characters in the film have done nothing extraordinary. Ranbir Kapoor, after playing award winning characters inBarfi & Rockstar, has nothing new to offer, in fact, he should look beyond friendship when he takes a pick.
So is Deepika, who is looking fit, pretty hot at times. However, her acting skills and chemistry with her co-star is the same like where she left Bachna Ae Haseeno.
Aditya Roy, the new boy in the block, could not have been a hit if this film had been released before Ashiqui 2. I hope you will get it!!! So, when you will watch YJHD.
Kalki was nice. In fact, she is the one who got some laughter to the un-required comic in the film.
One of the highlights of the film is a special item song by dancing diva Madhuri Dixit. Choreographed by Farah Khan, the track titled Ghagra is Madhuri-smitten Ranbir's introductory song. Following this, there are a few high energy dance numbers like Balam pichkari,'Dilliwali Girlfriend, that are already chartbusters. The movie also treats us with a lovely and touchy song Kabira. There are a couple of nice touches, but it needed more than a few stray smiles to save the catastrophically doomed second half, mired in boring controversies and poor plotting.
Verdict: This weekend don't expect much but a film you watch with someone you love.
Celebrate love, life and friendship with Yeh Jawaani Hai Deewani.

 Yash Raj Trivedi