DMK patriarch Karunanidhi passes away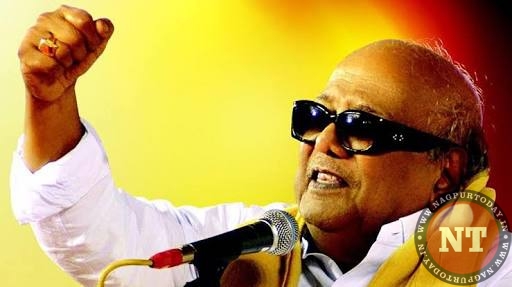 After his health deteriorated, DMK patriarch Karunanidhi passed away at 6.10 pm at Kauvery hospital.
He was 94 years old.
Earlier in the evening, the hospital had put out a bulletin stating that he was extremely critical and unstable.
Karunanidhi had spent 11 days in hospital
---
PM Modi expresses his deepest condolences after death of Karunanidhi:
Shortly after Karunanidhi's demise, Prime Minister Narendra Modi pays his tribute and passes on his condolences to the family.
He wrote, "Deeply saddened by passing away of Kalaignar Karunanidhi. He was one of the senior most leaders of India. We have lost a deep-rooted mass leader, prolific thinker, accomplished writer and a stalwart whose life was devoted to the welfare of the poor and the marginalised."
---
Reactions from across the political spectrum are pouring in after Karunanidhi's demise.
BJP chief Amit Shah said: "Anguished to learn about the demise of veteran politician, M Karunanidhi ji. He had an impressive life journey, starting as a screen writer in Tamil film industry to being five term Chief Minister of Tamil Nadu. No one can forget his struggle during Emergency, imposed in 1975."
---
Congress leader Shashi Tharoor on Twitter wrote, "News has just come in of the passing of Kalaignar Muthuvel Karunanidhi, a giant of Indian politics as CM of Tamil Nadu & a screenplay writer who gave voice to the Dravidian movement through his immortal dialogues. Tamil politics can never be the same again. RIP."
---
Superstar-turned-politician Rajinikanth said, "Today is a black day in my life, one which I can never forget as I lost my Kalaignar. I pray for his soul."
---
Karunanidhi's daughters break down, family at his house:
DMK Chief Karunanidhi's daughter Selvi reaches their Gopalapuram residence. Like her sister, Kanimozhi, she was also in tears, unable to cope with the deteriorating health and inevitability of the outcome. All his family members are at the Gopalpuram residence.
West Bengal Chief Minister Mamata Banerjee will be landing in Chennai at 9:30 pm.
Tamil Nadu government has also ordered the closure of all Tamil Nadu State Marketing Corporation stores that sell alcohol in the state by 6 pm this evening as authorities brace for the worst. Kauvery Hospital's latest medical bulletin has said that functioning of Karunanidhi's vital organs continue to fail, despite all efforts by doctors.
All roads leading to Karunanidhi's Gopalpuram home are blocked. Even TV crews are not allowed to access, except for the party's own Kaliagnar TV.
Thousands of Kalaigars supporters have gathered outside the hospital, including a large number of women. Some supporters say they believe Karunanidhi will live for another 20 years. Old, young, women and men, all praying in unison for a positive outcome to his hospitalisation.