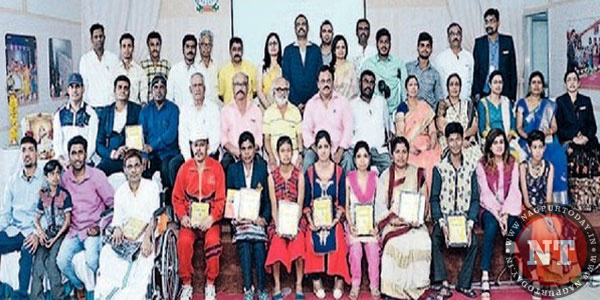 Divyang (disabled) sportspersons from Nagpur division were honoured by Dadasaheb Balpande College of Pharmacy and Ambe Durga Education Society on the occasion of Founder's Day observed in the memories of Dadasaheb Balpande at the college auditoritun on Wednesday.
This year the awards were distributed to the disabled sportspersons to boost up their confidence. They were honoured with memento and cash as a token of appreciation. Those who were hon-oured include Pratima Sonde, Kamlash Lanjewar, Ramchandra Sayre, Mohit Nakshine, Md. Hafiz Ansari, Sandeep Gawai, Zahir Ayub Khan, Md. Mustafa Ansari, Ujwal Pohare, Ramkrishna Kukde, Mangesh Umredkan Vaishali Thool, Mangesh Kaore, Pinky Tomar, Mangala Adamkar, Mesh Rathod, Vishnukant Tiwari, Triveni Barve, Nidhi Tarare and Roshani Rinke. Mayatai Vitthalrao Balpande, noted athetics coach Bhau Kane, president of the society Manoj Balpande, corporator Dinesh Yadav, DSO Avinash Pund, tehsilsar Rohini Allawan nayab tehsildar Swapnali Kale, vice-presi-dent of the society Umesh Balpande, treasurer Pravin Balpande, secretary Vibhatai Chafle,Vaishali M. Balpande, principals Ujwala Mahajan and Nitin Dumore graced the occa-sion.
On the occason Arjuna awardee Vijay Munishwar and Pravin Ughade were also hon-oured. Rohini Kharwade and Tushar Naidu donduct-ed the proceedings.