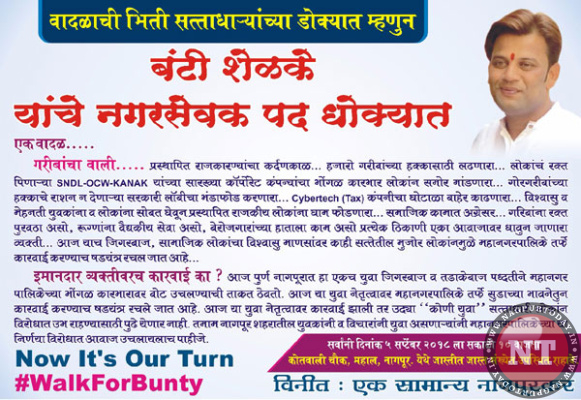 Nagpur: Disqualification sword hanged over firebrand Congress Corporator Bunty Shelke who has been fighting for hundreds of people for one issue or another. Shelke has taken cudgels against messy affairs of SNDL, Kanak Resources, Cybertech company and highlighting many other issues concerning the citizens. He has been taking on the BJP-led State Government and its ministers by staging agitations over burning issues.
On February 3, Shelke, along with ASHA workers, staged a demonstration in front of Town Hall during the general meeting. ASHA workers stormed into the House forcibly disrupted the meeting, after which mayor Nanda Jichkar announced adjournment of the meeting. In his inquiry report, the then Additional Municipal Commissioner Rizwan Siddiqui confirmed violations by Shelke and ASHA workers.
Siddiqui submitted the report before his retirement on February 28. After keeping the report in cold for nine months, the ruling party has now brought it before the general body meeting. The GBM was supposed to be held on September 5 but has been postponed to September 24. A resolution to disqualify the Congress Corporator could be tabled in the meeting and his fate sealed as BJP commands a brutal majority in the House.
On the other hand, Bunty Shelke said he did not force the ASHA workers into the House. NMC should provide justice to the affected workers. "The NMC administration has not given me an opportunity to explain my stand. Instead , it is conspiring against me. I will continue to raise issues of public interest and not afraid of disqualification," he said. Shelke is utilizing social media network and posting messages under title "Na darenge, na jhukenge."
NMC had issued a show cause notice to Congress Corporator Bunty Shelke asking him why his membership of NMC should not be terminated. The notice was given to Shelke as per Section 13 (2) of the Maharashtra Municipal Corporation Act. Shelke had stormed into the general body meeting of NMC on February 3. He had led ASHA workers, and had entered the Town Hall without permission, which had resulted in sudden end to NMC general body meeting. However, Shelke soon fled the spot, leaving ASHA workers in confusion. Later, City Police had booked Shelke for disrupting the meeting.