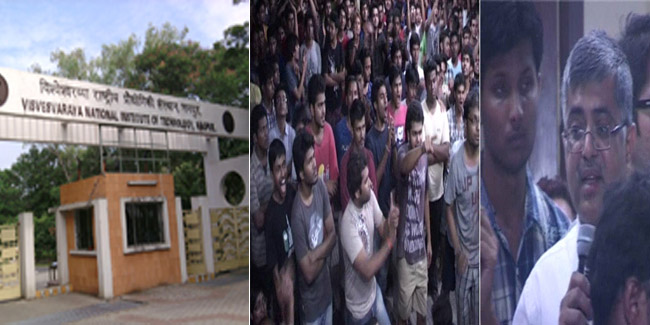 Nagpur News.
Finally peace restored in Visvesvaraya National Institute of Technology, at least for time being. Asst. Professor SS Sonawane  has been suspended over molestation charges. Sonawane has been absconding since the students took to protest after a first year college student alleged that he had molested her in his office room. The incharge Director Srinivasa Rao who reached Nagpur on Saturday from Warangal acted swift on the report of the inquiry committee formed to look into the matter. Rao suspended Sonawane as a quick measure to quell the agitating students who resumed their routine classes. Rao is handling additional responsibility at VNIT Nagpur as he is full time director at NIT Warangal in Andhra Pradesh.
Sonawane, who is also serving as the hostel warden, has not turned up yet to clear his stand in the matter. Ambazari police is also hunting for him as case has been registered against him.
The students' council and the director were still engaged in the talks till late evening.
Meanwhile, rumors are rife among a section of students that the girl might not have been molested and it was just the heat of situation under which she came up with what she deemed suited in order to get out of some quirky situation.
Reports also say that the professor had caught the girl in the premises with her male friend. He was adamant on bringing the same to the knowledge of girl's parents.
An unconfirmed source even informed that the girl has disclosed among his fellow mates that she was not actually molested but she got too scared.
However, most of the students were not willing to buy this theory and blaming it on the professor. "If he (professor) is innocent, then why is he still in the hiding," quipped one student when asked whether the girl was cooking up the story as preventive means.
Nagpur Today made series of attempts to have the stand of Sonawane in this regard but his phone remained switched off all the time.