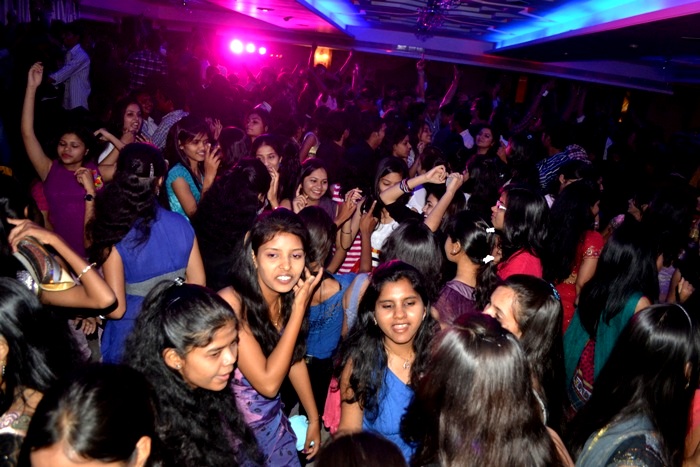 The French say Adieu while we say goodbye. Whatever way we call it farewell means going from one phase of life to another. The students of S. B. Jain Institute of Technology, Management & Research thereby organized a remarkable Farewell Party, where the students of ETC and ETRX branch of Engineering joined the celebration in large number. Party started in the late evening, where the crowd was seen superbly dressed.
Initially, the celebration started with distribution of mementoes to the seniors. A photography sessions started where flashlights from a number of cameras were visible as the students amongst themselves clicked memories in the form of pictures. This session was followed by the most awaited Award ceremony. Students were entitled with various interesting titles. Nimish Jain was entitled as the Best Senior. Further, Jayesh Fulzele was Mr. ETRX and Heenal Ganatra was Miss. ETRX whereas Ahmed Faraz was Mr. ETC and Heenal Ganatra was Miss. ETC.
The cake cutting ceremony further added to the fun. The crowd started enjoying at its peak as they grooving and moved on fun tracks and music. A few people shared their views with Nagpurtoday.
Nimish jain (final year student) said, "Really never knew how time flew by us all. This was the most rocking and memorable night of my life. Thank you my crazy and awesome juniors for this fantastic night."
Madhav Sir said, "The night was shining with so many beautiful moments. Saying goodbye doesn't mean anything. It's the time spent together that matters, not how we left it." Whereby Lokesh sir added, "Tearful adieu to golden students, the night was stunning as everyone was glittering like gold. End of a beautiful era to get started with the struggle."
Sajal roy chowdhary ( 3rd year student) was of the view, "Bidding adieu to seniors was a nostalgic moment! We will always miss them!"
Ashish (3rd year student) said that, "We had a blast and totally knocked out the party. We had a lot of fun and captured those moments, which are unforgettable."