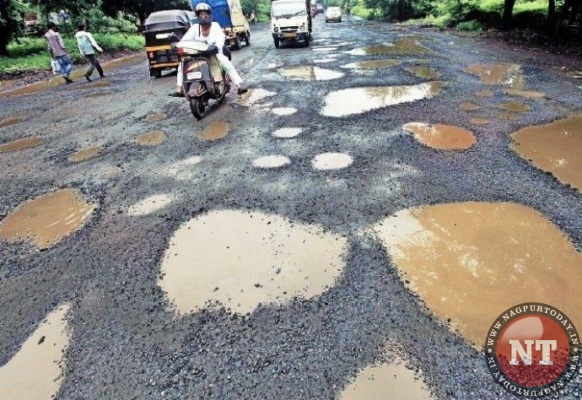 NAGPUR: Around eight different agencies, including Maha Metro, Nagpur Improvement Trust (NIT), National Highways Authority of India (NHAI), Nagpur Municipal Corporation (NMC), Orange City Waters (OCW) and SNDL, have undertaken works in the city. These ongoing works and the rainy reason have turned condition of roads from bad to worse. People are suffering a lot due to these bad roads. Therefore, these agencies should not add to the woes of the people. They should make sure that wherever roads had been dug, they are filled immediately after the work and the road is levelled.
These were the directives issued by NMC Standing committee chairman Virendra Kukreja while addressing a meeting of officials from different departments to review ongoing development works in the city. The meeting was held at Dr Punjabrao Deshmukh Smruti Sabhagruh at NMC headquarters on Friday.
Those present in the meeting included MLA Sudhakar Kohle, MLA Krishna Khopde, Union Road Transport Ministry OSD Sudhir Deulgaonkar, NMC tax committee chairman Sandeep Jadhav, additional commissioner Ravindra Thakre, chief engineer Manoj Talewar, Nagpur Metro Development Authority general manager Ajay Ramteke, NIT's superintendent engineer Sunil Gujjalwar, and officials from Railways, Metro Rail, and Maha Discom.
The meeting reviewed works of proposed DP Road between Wanjari Nagar to Railway Men's School, beautification of different squares in the city, repair of roads and removal of electric poles from under-construction roads.
Kukreja said the condition of roads was really bad and the NMC was facing people's ire on the issue. All concerned departments should complete the road levelling works before Ganeshotsava, he directed. He also said that land should be taken on lease from Railways for DP road from Wanjari Nagar to Railway Men's School. A proposal in this regard be sent to the Railways on urgent basis, he said.
The removal of electric poles be done by coordinating with all departments concerned including SNDL and NMC's electricity department, Kukreja said, and directed officials to seek funds for the same from Urban Development Ministry.
Executive engineer Rajesh Bhutkar, Girish Wasnik, Moti Kukreja, EE (Electricity) Sanjay Jaiswal and chiefs of departments concerned also attended the meeting.