Present Government has failed on all fronts. People have been feeling a killing anguish, are tired, fed up with this Government. Nitin Gadkari would emerge winner in LS polls, says State BJP chief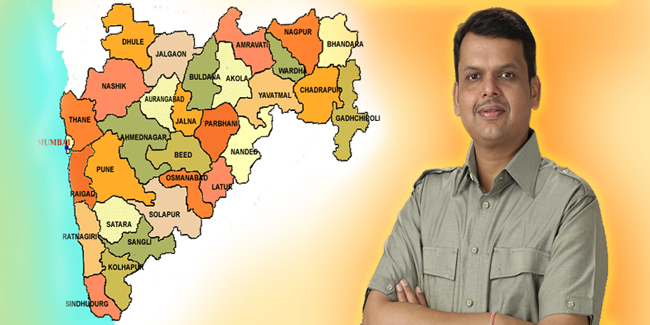 Nagpur News: The newly appointed President Maharashtra unit Bharatiya Janata Party (BJP) Devendra Fadnavis, who is also party MLA from South-West Nagpur constituency, exuded confidence that he would be able to deliver justice to the responsibility given by BJP's National President Rajnath Singh.
Devendra Fadnavis, the long time Corporator, and, former Mayor of Nagpur, is considered most popular BJP leader in Orange City, particularly among the youths of the city, and to some extent in Maharashtra, as well talked to Nagpur Today over several vital political issues like the challenge he is facing as State unit chief of BJP, bring BJP-Shiv Sena-RPI (Athawale) alliance to power in Maharashtra thus resolving many problems being faced by people during 10-year-old regime of Congress-NCP in Maharashtra. He was talking to Nagpur Today's Yash Raj Trivedi.
"It is exactly on time. It is not too late or too soon. I am totally happy for giving the responsibility of Maharashtra BJP chief to me by party's senior leaders," Fadnavis asserted with a smile to a question by Yash Raj
"It is certainly not a glamour but a ground reality as far as challenges are concerned the post faces," he said. When Yash Raj asked him about the issues of public concern or debates over controversies the NCP-Congress Government created over crucial issues like law and order, rising prices, various scams like agriculture and others, for which Devendra Fadnavis was always available to electronic media, the BJP leader said, "What is wrong in it. After all he was raising or debating the anti-people policies of the Maharashtra Government. And it is a wrong conception that he was available to only electronic media. Many print media scribes approach him for comments of public interest and other important issues," Fadnavis asserted.
Nagpur Today: "What is your next agenda after taking the responsibility of State BJP President."
Devendra Fadnavis: There are mainly two agendas. The first and the foremost being to get rid of the NCP-Congress Government in the state which has abysmally failed on all fronts and as result the people have been feeling  a killing anguish by the anti-people policies of the Government and are tired and fed up with this Government. This government is not only corrupt but also insensitive towards issues of public interest.  This Government has disconnected itself with people's problems and people, too, want to kick out the Congress-NCP Government. Secondly, we would raise peoples' issues, bridge the gap between various communities including Dalit, Muslims, Christians, and other backward and poor people by resolving their day-to-day problems. We have and shall be a responsible Opposition till the next Assembly elections when this Government is dumped by the harassed people. We are not power hungry but we want deliver the goods the Maharashtra people are deprived of by the Congress-NCP Government. And good and visionary politics is part of coming to power and deliver the justice to people."
Nagpur Today: "Would you be the Chief Minister if the BJP-Shiv Sena-RPI(A) comblne wrests the power from Congress-NCP alliance?"
Devendra Fadnavis: "As I already told you we are not power hungry. We would not fight the elections for post of Chief Minister or the minister but to change the present scenario and relieve the common people from severe problems they are presently facing. We will go to the people and apprise them of our vision by which we can resolve their problems. And the issue of who will become chief minister would not be a problem be sure of it," the MLA said.
Nagpur Today: "Is the issue of separate Vidarbha still a part of your agenda?"
Devendra Fadnavis: "It is very much in the agenda because my party's position is very clear and ideologically we believe in small states, and we have been successfully ruling smaller states with much better growth. The small states are models of better management, better governance. Under NDA, we created three smaller states and the development these states achieved has been appreciated by all sections of the society and even by political parties. A small state is not an emotional issue, it's an issue related to good governance. So ultimately, the BJP stands for separate Vidarbha; for Telengana and for other smaller states. Vidarbha has been a boon as far as natural resources, agriculture products, skilled manpower and other excellent facilities are concerned. The only need is of good governance. Just by sitting in Mumbai you can not understand or resolve problems faced by Vidarbha people. There are many different issues on various fronts like geographic, commercial, industrial that could have been greatly developed long ago but the thick-skinned Western Maharashtra or even some Vidarbha leaders frequently and vehemently stalled creation separate Vidarbha,and, diverting the resources and massive funds meant for Vidarbha's development to their constituencies in Western Maharashtra by hook or crook. That is why I feel it is not an issue of emotions but a socio- political change is the basic ideology behind creating smaller states.
Nagpur Today: Your thought on LBT.
Devendra Fadnavis: "LBT is a regressive tax. Octroi was regressive and LBT is too regressive. In any other countries or societies, "Ease to do business" policy is the key to the growth of both traders and consumers as well. And now when everything is in place, when you import from one state you have to pay the duty. When you export you pay the duty. You buy you have to pay the duty. When you sell you have to pay the duty. So whatever you do you have to pay duty. Now, whether a businessman would do business or he will just maintain and maintain the records and the records for years together, and submit the record to government that too in many formats .In fact, when the VAT regime came, which basically come from Europe where there are only two taxes VAT and Income tax. And when the VAT rate was raised in Maharashtra by one per cent the Governments had promised to hand over the additional VAT Municipal Corporations. And, now, instead of giving the VAT money, the Maharashtra Government enforced LBT notwithstanding its pros and cons," Fadnavis lamented.
Nagpur Today: "Do you think the business communities have unity as their protests, the Bandh are not being supported by all sections of society and even by some big establishments?"
Devendra Fadnavis:" See, I think in democracy everyone has his or her own way to express  his or her views or agitate. So far, ideologically speaking, the whole of business community is against LBT and we, too, also feel that this LBT should be taken back."
Nagpur Today: "Is there remote control in somebody's hands to control you?"
Devendra Fadnavis: No. No. No remote control. Remote controls are for them who do not believe in themselves. I feel India is in a situation of demographic advantage and if this demographic advantage is harnessed by India we could be a developed nation and we can rule the world. If the rulers trained and developed the youths in the country and provided proper opportunity, proper employment they would change the face of the country. I believe in Indian youth, in their power and I believe that if the Government shows sky is not the limit, then India could become a number one powerful nation.
Nagpur Today: Let's have a rapid fire.
Devendra Fadnavis: All set…Shoot
Politics: it's an instrument to bring socio economic change.
Youth: Today & Tomorrow. The only Hope.
NMC: NMC now stands for Nag River, Great job.
BJP: Common man's party, its ideology is the "Nation First".
Dr Manmohan Singh: No Comments
Nagpur Today: How are you managing the political responsibility, South West Constituency,and the  family?
Devendra Fadnavis: "Well, as far as work is concerned I am trying hard to do it at best., As far is family management is concerned I am looking for advisors." (Laughs)
Nagpur today: A lot of speculations in Nagpur over 2014 Lok Sabha polls. What is your 2014 election prediction?
Devendra Fadnavis: "In 2014, Nagpur Lok sabha seat will be contested by Nitin Gadkari and looking at his past record, looking at his developmental attitude, and looking at his reach to people I am sure he will win with thumping majority. As far as Vidhan Sabha is concerned I am sure people will vote us to power."
Nagpur Today: People, who would read this article, your message to them.
Devendra Fadnavis: My only message is react but not negatively. Don't be reactive but be proactive.
Nagpur Today: Best wishes for your future.
Devendra Fadnavis: Thank you all.
As Told to Yash Raj Trivedi