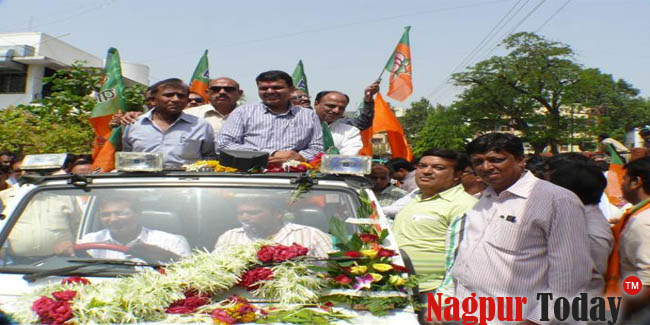 NAGPUR News : The Second Capital city of Nagpur witnessed on Thursday the announcement of Devendra Fadnavis, South-West Nagpur MLA, becoming President of Maharashtra unit of Bharatiya Janata Party (BJP) according to a well planned strategy. The scene at Fadnavis's Dharampeth-based residence was ecstatic with supporters dancing to the Sandal bands and a happy Fadnavis busy in receiving greetings from other party leaders and well-wishers. On the contrary, the atmosphere at Nitin Gadkari's residence was gloomy. In the meanwhile Fadnavis reached Gadkari's residence to seek blessings from the senior leader. But before the arrival of Fadnavis, media men were already there to get reaction of Gadkari. Gadkari, hiding the loss of face, and his wife Kanchan welcomed Devendra  in the traditional manner and felicitated and blessed him. Devendra too touched the feet of Gadkari and his wife as is Hindu tradition.
A confidant of Devendra Fadnavis said that both leaders were meeting at many programmes coincidently or by chance. He compared Fadnavis and Gadkari to railways tracks which are always together but never meet with each other. However, both the leaders often claimed they were together and there were differences between them. But now the biggest challenge for Fadnavis will be to work in a better way and overshadow Gadkari's term as President of BJP state unit.
Devendra Fadnavis had already become an international figure before the President of State unit of BJP. Fadnavis always raised vital issues in and out of the State Assembly. The Opposition parties always accused Fadnavis of self interest whenever he raised an of public importance. Fadnavis kept a long distance from print media but readily made himself available to electronic media for debates on several issues. He always took selected media houses with him whenever he wanted to raise any crucial issues related to welfare of people. Many times his party leaders and supporters said that Devendra has distanced himself from common people.
But now Devendra's foremost and important work at hand is to ensure Gadkari's victory in Lok Sabha polls at any cost. He will have to first deal with a former BJP MP who has left no stone turned to dent Gadkari's image for many years. Devendra will have to offer some post or any other responsibility within BJP to the sulking former MP.
It has to be seen which turn the political career of Devendra Fadnavis takes place with new responsibility on his much experienced shoulders.