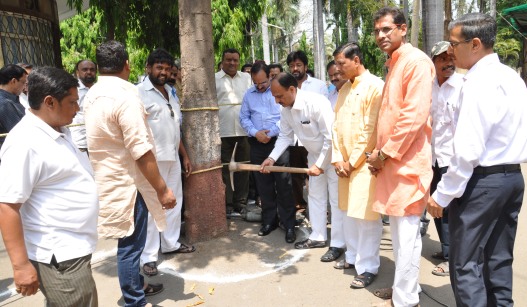 Nagpur News:
On this Navratri, Nagpur Municipal Corporation (NMC) Contrator Welfare Association commenced a drive to remove bitumen around the roadside trees. Mayor Anil Sole inaugurated the drive in the main NMC office premises. Prominently present on the occasion were Ruling Party Leader Pravin Datke, Deputy Mayor Sadeep Jadhav, former Standing Committee chief Dayashankar Tiwari, MLA Sudhir (Bandu) Raut, Girish Joshi, Prakash Gajbhiye, Manoj Sangole, Municipal Commissioner Shyam Wardhane, Additional Commissioner Hemant Pawar, Deputy Commissioner R Z Siddiqui, and others.
Mayor Anil Sole appreciated the drive and assured to extend support for the successful completion of the drive. Shyam Wardhane said that the initiative from Contractors Welfare Association is a good initiative to enhance the greenery of Nagpur city. Pravin Datke appreciated the drive and said that people tend to forget the trees which are planted near roadside and thus, this drive to take care of the roadside trees was commendable.
Vijay Naidu, President, Contractors Welfare Association, has conceptualised the drive. Giving information about the drive he said, the bitumen around the trees would be removed during the drive. Thus, these trees would absorb the rain water and water will easily reach the roots strengthening the trees. He further informed that the bitumen removed will be reused in NMC's Hot Mix Plant and would be used to fill the potholes. He appealed other organizations to join the drive. Those interested may contact the Contractors Welfare Association of main NMC office.
Sonu Naidu, Dilip Rathi, Prakash Chandak, Pradeep Waghmare, Ashok Gurubaxani, Jeetu Goplani, sunil Kawle, Ramesh Bhanuse and other contractors were prominently present during the inauguration of the drive.