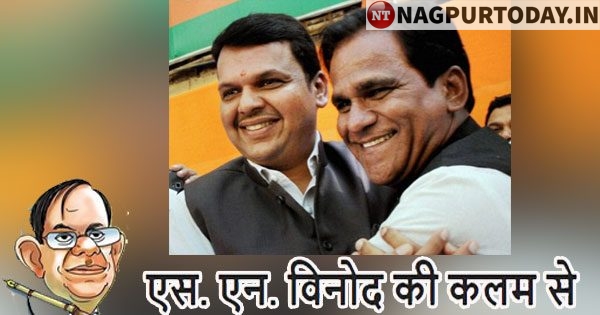 Nagpur: The young Maharashtra Chief Minister Devendra Fadnavis has exuded 'confidence' that he is coming again. The entire state is unanimous that I will be at the helm again. It simply means, the BJP will be forming Government in State under the leadership of Fadnavis again. The faith of people on Fadnavis is intact. State leaders as well as Central leadership is also showing faith on him.
Then why the Union Minister and one of the top BJP leaders Raosaheb Danve s expressed his desire to become Chief Minister? This question is being asked in the inner circle of State BJP and outside it as well. It may be recalled that during a programme in Jalna recently, Danve had made a statement that he had held the post from a Sarpanch to an Union Minister. Now thinking of holding Chief Minister's post. Dane had also held the post of State BJP President. Even though he is a stalwart in State, a group of political analysts is not ready to give credence to Danve's ambitions.
This group also knows that Devendra Fadnavis has established his supremacy in the party and State as well. Challenging him is not possible. Then why Danve expressed such desire? If it is considered to be a human weakness, then it should not be seen from political angle. If it is not his 'political desire', then Danve should restrain himself. Sweet desires of a fragile mind sometimes bear fruit. He has become Union Minister. He should focus his mind and hard work there only. He should not a miserable figure by his own behaviour.
The alliance between Congress and NCP is on the wane in Maharashtra. While Congress has been afflicted by lack of leadership, NCP is splitting due to internal bickering. Top leaders of both the parties joining either BJP or Shiv Sena. They are also facing the pressure of government machinery. Considering the situation, it will not be surprise if BJP-Shiv Sena alliance gets a 'walk over' in Assembly elections!
In this favourable condition, BJP leadership would expect Danve or any other leader refraining themselves in making such statements so that there is no confusion. The BJP leadership has made it clear that for strong and effective leadership of Fadnavis all should cooperate and fall in line.